No matter the occasion or recipient, beautiful, personalized glassware can make for a classy and useful present. With a wide range of custom wine glasses and personalized beer mugs to choose from, Pinnacle Promotions can help you select the perfect gift this year. Learn how to go about ordering these promotional gifts and take a closer look at some of our favorite custom wine glasses and personalized beer mugs.
How to select the right custom wine glasses and personalized beer mugs
Now that you've decided you want to purchase custom wine glasses and personalized beer mugs to gift to clients or staff members, you should pay attention to which products you're going to engrave. You want to find a well-made product that they can enjoy for years without worrying about the items breaking or the imprint vanishing after being run through the dishwasher.
Quality is key when ordering your custom wine glasses and personalized beer mugs. Cheaply made glass is more prone to breakage, and while some people prefer plastic glasses to avoid cracks, this material is not quite as elegant. Decide whether or not you're hoping to give a more refined gift, in which case you should certainly order the products made from glass, or if you're interested in giving a practical item that can be taken on the go, like plastic glasses or even wine tumblers. Pinnacle Promotions prides itself on offering the best promotional gifts made from the highest quality items, so if you opt to order customized products as gifts this year, you can rest assured that our collection is excellent.
When you order custom glassware with Pinnacle Promotions, you know you're getting the best quality products because we make sure to use effective imprinting methods that will stay for years to come. Other personalized products may use cheaper methods that are not safe for the dishwasher or begin to wear off after a short period time, but our screen printing method will create a beautiful gift that can be put in the dishwasher without worrying about destroying the design you thoughtfully decided upon. You can also opt for a non-metallic print, which renders many of our top products microwave safe as well.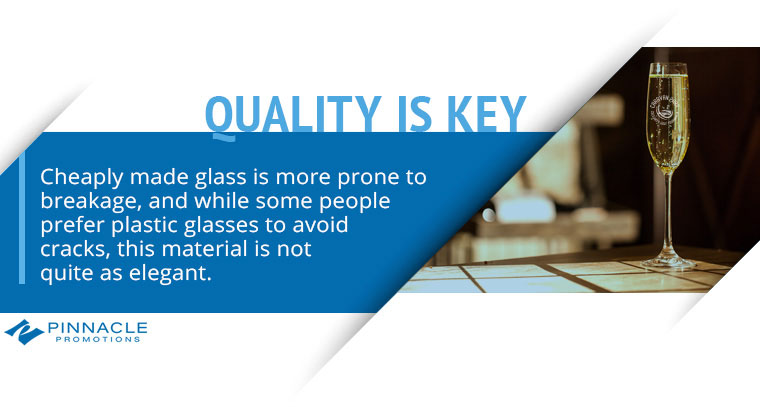 Custom wine glasses and personalized beer mugs are available in many shapes and sizes. When choosing which glassware to order as your next gifts to give, consider whom you intend to present these items to and what type of design would most appeal to them. In terms of custom wine glasses, you can opt for a classic stemmed glass design or the tasteful stemless option, which prevents spills and gives your barware a unique set of glasses.
Though some people don't realize that there is a difference between a glass designed for white wine and a glass designed for red, there are slightly altered characteristics that you might want to consider before selecting your custom wine glasses. If the client is more of a white wine drinker, then you should choose our glasses designed for this type of vintage, which tend to be shorter with a smaller bowl area. For clients who prefer a bold red, these glasses are taller and feature a larger or wider bowl, which is intended to accentuate the rich flavors and scents typically associated with red wines.
Personalized beer mugs are also available in a variety of sizes and shapes depending on preference and intended use. For a classic style, you can select the curved shape of the pub glass or the tapered style of the classic ale pint glass. The tall pilsner glass or the unique flare pilsner glasses are good options too. Or consider one of the beer mug options available in sizes that range from 16 ounces to 25 ounces.
Once you've decided that custom wine glasses or personalized beer mugs are the gift you want to give this year, you should place your order right away. The customization process can add some time to preparing your order, so always be sure to check the estimated production time listed on each individual product. Most custom glassware items take between five and seven days to create, but we recommend ordering them two to three weeks in advance just to ensure you'll receive the gift well in advance.
Our favorite custom wine glasses
Shatterproof Stemless Wine Glass
This beautifully designed shatterproof stemless wine glass can hold 12 ounces of your favorite vino and offers the perfect amount of surface area to add your custom design. Made from a PETG polymer, these glasses are unbreakable, which makes it the perfect item for someone who wants to take their wine on the go while attending a music festival, tailgate or other outdoor events. This item is also microwave- and dishwasher-safe, guaranteed to never crack or become discolored. Because of the unique design, this custom wine glass also keeps drinks colder for longer with a double-wall insulation feature.
Plastic Stemless Wine Glass
Another shatterproof option, the Plastic Stemless Wine Glass holds 12 ounces and makes for a fun selection because it can be ordered in a range of different colors including blue, red, green or purple. This item is dishwasher-safe and made from plastic, so keep that in mind when determining whether you're looking for a classic glass or more versatile plastic option that is less prone to breakage.
Corzo Copper Vacuum Insulated Cup
For the oenophile on the go, this Corzo copper vacuum insulated cup is the perfect promotional gift. Not only can this tumbler hold wine, and keep it cold for hours on end, but you can also use it to keep coffee warm or make your ice cream last longer when sitting out in the sun on a warm summer day. Created with stainless steel, the double-walled insulation will retain a cold drink's temperature for up to 24 hours while it can keep hot drinks warm for six hours. Order this item in black, blue, gray, silver or white and add a beautiful custom image or text over the top.
The best personalized beer mugs
Able to hold up to 16 ounces, this classic ale pint glass is the perfect glassware for any beer lover. Featuring a tapered design, this personalized beer mug can be given in a set of four or more to allow the at-home bartender to treat his or her guests to a more refined beer drinking experience.
A favorite design, the tankard mug features a sturdy handle allowing the drinker to carry the mug around securely. Able to hold up to 16 ounces of liquid, the glass is both dishwasher- and microwave-safe though hand-washing is recommended.
Another classic beer mug design, the pub glass features a curved design able to hold 20 ounces of your favorite craft beer. The shape of this personalized beer mug is classy and convenient because the curve is designed to fit perfectly in any beer drinker's hand.
Unique custom champagne glasses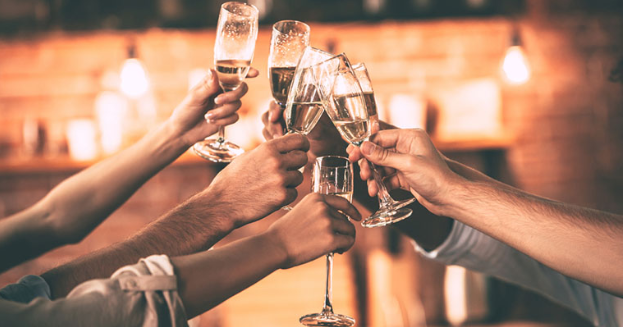 If this occasion requires something a little more special than a custom wine glass or personalized beer mug, consider some of our beautiful custom champagne glasses, perfect for celebrating a promotion or marriage.
One of the most elegant champagne glasses, the Vina stemless flute holds 8.5 ounces and stands out from the more traditional glass designs. Because the bowl of the glass is much larger on these then traditional champagne flutes, you have additional room for your custom message or design. These flutes are dishwasher-safe, though hand-washing is recommended, and microwave-safe if you select a non-metallic imprint.
Another unique champagne glass design, this twisted stem flute features an twisted stem design to create an elegant appearance. Hand-washing is also recommended for this product as the item can be fragile.
The best way to order promotional gifts
Pinnacle Promotions' vast collection of glassware, including custom wine glasses and personalized beer mugs, offers you access to dozens of designs. Whether you're looking for a promotional gift for friends, family or co-workers, these items will satisfy everyone–especially with the addition of a custom image or message. If you have any further questions about the ordering or imprinting process, feel free to reach out to us by phone at 800.351.4226 or through our site's contact us form.