You like landing new clients... who doesn't? The more new clients you acquire, the more your business grows. That is why so many businesses spend a lot of time reaching and converting new customers to grow their consumer base. Marketing budgets explode trying to acquire new target audiences and potential clients each year.
Getting new clients is important, sure. But what about the ones you already have? Where is the love for the loyal customer? If you don't have an answer to this question, it's time to start thinking about giving a little more attention to the clients who support your business.
Having good client relationships is paramount to running a successful business, but it's easy to overlook if the focus is all on new clients.Converting a client is just the first step, however. If you want to keep them around, you need to show them that you care.
That is why we love client care packages. A little bit of time and effort, mixed with a few well-thought-out promotional products, can go a long way towards making your clients feel special. When done right, sending a package will give you the edge with your clients that other businesses fail to nurture: a strong relationship.
What's so special about a care package?
We know, the first things that come to mind when hearing about a care package may be hospitals, illnesses and "get well soon" cards. Even though we love to help people get healthy and happy again, your clients don't need to be sick to enjoy a care package. This idea takes the "care" part to the next level.
Good for any occasion or time of the year, client care packages are part promotion, part gift and part reward for customers. Best of all, you don't need an excuse to send a care package. New clients and loyal customers alike can enjoy a small package from your business.
Compared to other client retention techniques, care packages have some additional benefits you can enjoy. First and foremost, they are physical gifts. Even though some businesses reward customers with deals and coupons, some people just like getting tangible things they can touch and feel. It's also easy to bundle together several products together to create a unique care package.

Another advantage with care packages is the sheer number of possibilities you will have when putting one together. Promotions and deals are more limited in this respect. Yes, you can choose which products to include in the promotion, but it's harder to personalize which deals each particular client receives. If you want to connect with your existing clients, you need to make the products in the package special. In doing so, they will be more likely to enjoy the gesture and continue to come to your business in the future.
Custom product care packages make personalization easy and affordable. As long as you know some things about your clients–their tastes, needs, wants–making the package unique is straightforward.
Beyond personalization, care packages can be drastically different from each other. You can be thematic, bring in different holidays or special occasions, include other friends and family members, etc. With so many possibilities, it's hard to go wrong.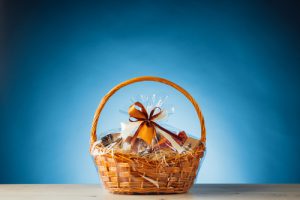 That isn't to say that a great care package is easy to make. If you want to do it right, we believe in planning ahead. A client care package requires some thought and attention to the details to maximize the success.
Spend some time planning the package
Client care packages are, simply, a bundle of gifts for the client. The process to put one together is the same as buying a gift: it's important to take some time to think about what is unique to them to get the best results.
This is easier to do with individual clients–actual people you know. In this case, a simple conversation or brief email exchange can provide details about their interests, likes, dislikes, etc. You may discover ideas for products to include as you discuss things.

B2B client relations can be trickier. When your client is a whole business, you need to think in broader terms. Look at products that may be more useful or relatable to the company as a whole. Consider their industry, products and services and brand to get a good idea of their overall "personality."
Balance the branding
Client care packages can get a little tricky when it comes to the branding. Since most standard gifts don't come with your business's logo plastered all over them, it can be difficult to know how much or too little branding to include. It's important to realize that using custom promotional products in a care package is more than acceptable. In many cases, using them is a great way to increase and strengthen bonds with particular clients.
The trick is straddling the fine line between a branded experience and being too pushy. Don't hesitate to have your logo or company name displayed on each item, but often, more subtle is better. This is a great way to tie everything together with the same image and color palette. You can even include a few extra branded items or promotional materials like brochures, business cards, etc.
Make the care package
If you know that a client care package is something you want to try out, the next step is to put one together. Check out different custom promotional items to see what might work for you. Sometimes, certain products just jump right off the page as if they were meant for your particular package. If the care package doesn't practically make itself, however, don't worry. Here are several package ideas you can try out yourself to find the best bundle for the job.
Choose products that stand out
Clients can easily ignore the significance of a good care package if it is too generic. A care package that seems like all the rest won't create the relationship-strengthening effects you want in the first place. To avoid this issue, take the time to add things that are unique to the client.
For example, products that represent the experiences you have with a client are perfect. If possible, include something meaningful. A simple message included in the package offers a personal touch. You might find with older clients, for example, that you can remind them of the good times with a few carefully chosen words or images. Stick with the most meaningful or useful things for the package.
For any client, novelty products add some spice to the care package. Non-business items, gag gifts and food all have a way of sticking out compared to the average coffee mug. Keep in mind that less is more with this kind of product. Adding too many items that aren't related to the client or your business will make the care package seem random and decrease the impact you may want from your package. Instead, select one or two novelty products to feature.
Don't want to get too crazy with the products? Even common products can stand out with some personalization. Check out everyday items like coffee mugs, notebooks, binders or branded custom pens that are easy to bundle together without spending a lot of money. Many times, seemingly boring office items just need a little bit of personalization or branding to make it into a care package
Go with a theme
For new clients who lack a long history with your business, it may be difficult to personalize the care package. If this is the case, stick with general items that most people may enjoy or find useful.
Themed care packages are a great way to do just this. You can choose more common, universal custom products and still tie everything together. The important part is having a good theme in the first place. Thankfully, a theme can be almost anything.
Want to celebrate a specific holiday? Make it the theme. Does your client have a unique business? Make it the theme.
Decide on the theme before looking for what to include in the package. When you have a good central idea that can tie everything together, it will be much easier to find the products that fit the bill for the package.
Common products to check out include custom branded shirts and hats that can fit with nearly any theme. Not only are these easy to brand, they can be tied together with other products to create a cohesive package. Quite often, basic items are the glue that holds everything together. Once you have found a few special products to include, these extra items fill up the rest of the package to make it complete.
Embrace the season
If you struggle with finding a good theme or can't find a good way to tie the whole package together, one safe bet is to go seasonal. You can coordinate a care package based on the time of the year.
Think about the season itself. Unique summer items like outdoor toys and margarita glasses will naturally differ from winter mugs and sweaters. If the season is appropriate for your client or business, it can rule out promotional products you can ignore if they don't fit.
Special occasions and events throughout the year are also helpful package coordinators. While holidays are the most obvious for tying the package together, you can use any special event you want. Is your business celebrating an anniversary or big event? Pick items that convey the celebration.
Finally, a color palette is another great way to keep everything in the care package coordination. Consider the most common colors of a particular season or holiday. You can mix the colors up as long as they don't clash. For example, stick with warmer colors like orange and red if you are creating a care package for the fall. White, red and green fit well with winter holiday packages. When in doubt, use the colors of your business (often found in the logo) to coordinate everything with minimal effort.
Welcome first-time clients
Crafting effective care packages for first-time clients can be hard since you may lack an extensive relationship, personal information or other details. One safe way to get around this challenge is with a welcome package.
You can use promotional products to communicate any details new clients need to know about your business. A good package can also specify the value and benefits the client has to look forward to in the future.
Once again, more common products are easier to include in a welcome kit. Look at apparel and office products that show off the brand and may come in handy in the client's life.
Sending this type of package will let your client know your business cares right from the very start. It's also a great way to give them important information on your business's brand, history, service, and other specific details. A good welcome kit is useful, educational and possibly entertaining all at the same time.
Get the details right
It's important to remember that creating a care package is a skill you can develop. Expect a little bit of trial and error to get it right. Some motivation and persistence will go a long way to making a care package that positively affects your clients.
If you take the time to consider product options and plan out the theme, you'll be on your way to a successful client care package. Or just get some help from the pros. All it takes is some planning and expertise to find the right items to create the perfect kit.