This article is part of a series highlighting retail brands that can be imprinted with your company logo.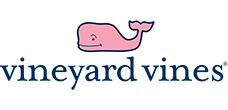 Vineyard Vines was created by two brothers, Ian and Shep Murray, in the late 1990s. Stuck in their corporate jobs, they wanted something different – they wanted to bring the casual feel of summer into the office.
The brand began with ties (the "vines" in the name refers to the way a tie can feel around your neck). The brothers decided to make high-quality ties that were still fun and fashionable, using preppy colors and whimsical styles.
The iconic pink whale logo was introduced in 2003. Inspired by trips to Martha's Vineyard (the "vineyard" in the name), the smiling whale was meant to inspire customers to live the good life.
In 2004, the brand expanded beyond ties and introduced items like apparel, bags, and hats. They opened their first store (in Martha's Vineyard, obviously) in 2005 and, as of 2021, there are 120 standalone stores, as well as merchandise in Nordstrom, and other smaller stores such as Mast General Store and Palmetto Moon.
In late 2021, Vineyard Vines was introduced into the promotional products space. Pinnacle Promotions was chosen as part of a select group of distributors authorized to sell branded Vineyard Vines merchandise. Options include promotional polo shirts, branded tote bags, embroidered baseball caps, and more. This is a great opportunity to purchase high-quality merchandise imprinted with your logo…and a pink smiling whale, of course.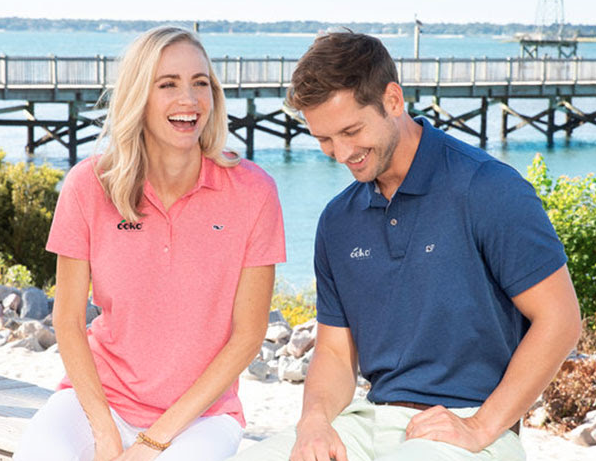 ---
Sources:
Cain, A. (2016, September 28). Brothers share what it was like quitting their corporate jobs to sell ties on the beach and cofound Vineyard Vines, a company worth nearly $1 billion. Retrieved from https://www.businessinsider.com/brothers-who-founded-vineyard-vines-reveal-why-they-quit-their-jobs-2016-9
Wordsmith, L. (2021). The History of and Story Behind the Vineyard Vines Logo. Retrieved from https://moneyinc.com/vineyard-vines-logo/
Bertoni, S. (2018, April 29). How Vineyard Vines Built A Giant Brand Without Raising A Penny Of Equity. Retrieved from https://www.forbes.com/sites/stevenbertoni/2018/04/10/how-vineyard-vines-built-a-giant-brand-without-raising-a-penny-of-equity