Why you should invest in branded water bottles for your next marketing campaign.
The late summer is a perfect time for all kinds of outdoor activities — hiking, camping, baseball, tennis, kayaking and the list goes on. One of the critical things to remember about all these fun outdoor adventures is to always stay hydrated. That's where the importance of branded water bottles comes in.
Imagine this. You've given a trusted partner a high-quality, YETI water bottle customized with your company logo on it. One of their team members, Susan, carries this with her daily — to the office, out to the baseball field to watch her kids' games or on fun family camping trips. Everywhere Susan goes, that custom water bottle goes with her. 
Susan gets stopped by strangers asking where she got her water bottle. She then goes on to share her experience with partnering with your organization. She explains how this thoughtful gift reaffirms that your company cares about her business.
Not only does this story show that your company logo will be seen and appreciated, but it also highlights that the custom water bottle you choose makes a difference!
What Are Branded Water Bottles?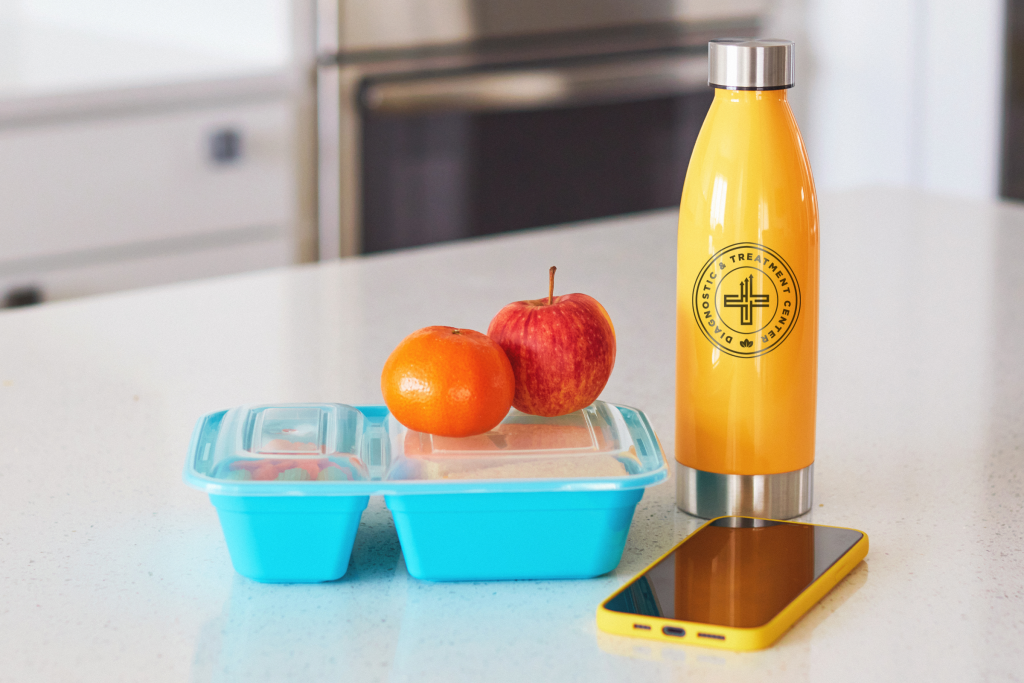 Branded water bottles are simply that — water bottles you can customize with your business' unique logo. How to choose custom water bottles is a different story, however. With so many choices, you may feel a bit overwhelmed. That's why we are here to guide you toward making the right choice for your customers and employees.
Let's break down what choices you have for customizable water bottles.
Plastic Water Bottles
First up is plastic water bottles. Reusable plastic water bottles have been a staple for brand possibilities since they became widely available in the 50s. What makes plastic water bottles appealing is that they are lightweight and durable. There are a variety of plastics that these bottles can be made with, including BPA-free plastic, recycled PET, polyethylene and polystyrene.
Stainless Steel Water Bottles
Stainless steel water bottles make great plastic alternatives as they do not leach chemicals but are still durable and relatively lightweight. These water bottles are hot-liquid-friendly, and most are insulated — which means drinks will maintain temperature for several hours.
Aluminum Water Bottles
Next up are aluminum water bottles. These bottles are lightweight and less expensive than their stainless steel counterparts. However, because aluminum can leach into liquids, these tend to have a thin BPA plastic liner. They are also not as durable as plastic or stainless steel and can be easily dented.
Glass Water Bottles
Ah, glass — one of the oldest forms of water bottles! A true classic, glass water bottles are an excellent choice for those concerned about chemical leaching. However, the glass water bottle is heavy and highly breakable. The good news, though, is that most are dishwasher safe, and many are sold with protective covers — which makes an excellent place for brand imprinting.
Ceramic Water Bottles
Ceramic water bottles are eco-friendly, recyclable and dishwasher safe. These bottles are a bit harder to source but are becoming more popular for those seeking a sustainable option.
Eco-Friendly Water Bottles
Finally, eco-friendly water bottles. These water bottles utilize each of the above materials, usually recycled into a functioning water bottle that is better for the environment. The durability and weight will depend on what materials are used.
Common Water Bottle Features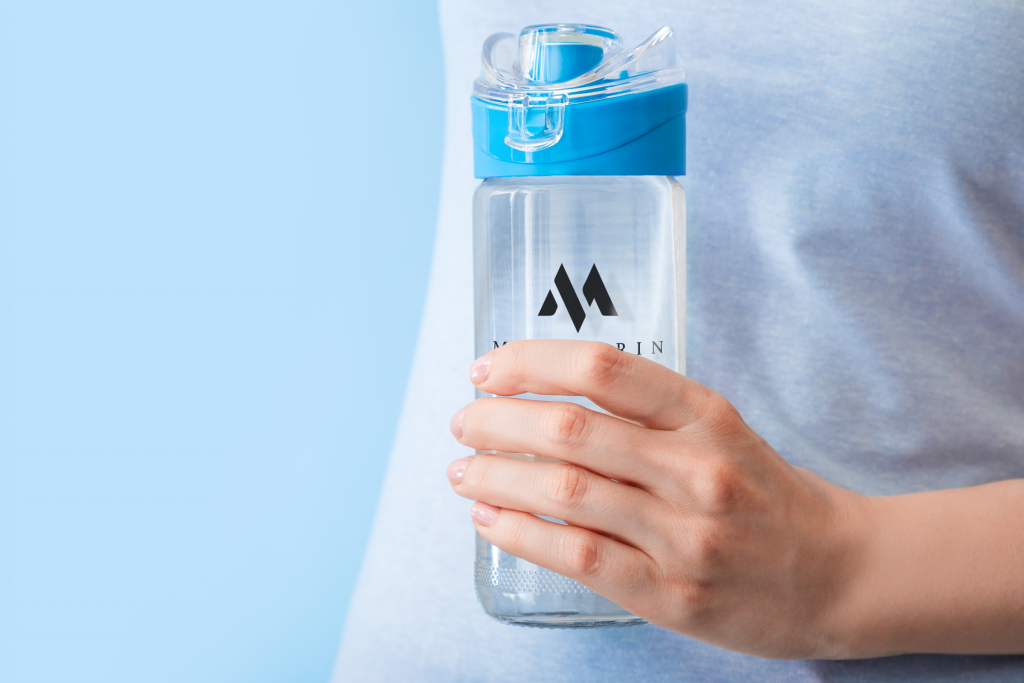 While the materials of a water bottle are essential for obvious reasons, the features could really make or break a lasting impression on your customer or employee. Here are some of the most common features we see with branded water bottles.
Single Wall
Single wall water bottles are lightweight and only have one layer, meaning drinks typically lose temperature throughout the day and are prone to condensation.
Double Wall
Double wall bottles have an insulating second layer, usually filled with foam or air, that helps keep drinks cold or hot and prevents sweating.
Vacuum-Sealed
Vacuum-sealed water bottles have double walls with vacuum-sealed air to help reduce the transfer of cold or hot temperatures.
Screw-Top
Screw-top water bottles are some of the most common types of water bottle lids, especially on stainless steel water bottles. These have to be opened by unscrewing the top — which can be a hindrance if you are in a hurry! Screw-top lids also offer a wider drinking area and are easier to clean.
Flip-Top
Flip-top water bottles have a straw feature that can pop-up for quick access. These are great for sports or exercising as the flip-top makes it less likely to leak. But flip-tops may not be the best choice if you are a gulper.
Sport Cap
Sports cap water bottles have an easy, one-way valve that opens automatically when the bottle is squeezed. These are a common choice for plastic water bottles made with soft, flexible materials. These water bottles are great for athletes who need a quick sip before heading back onto the field or court.
---
At Pinnacle Promotions, we understand that big promotional projects need an extra hand. Reach out to us at 877.300.2007 and let us help you with your corporate gifts, kits or events with the best branded water bottles to make the right impression™.
---
Why Invest in Custom Water Bottles?
So we know a little more about the types of branded water bottles. Now let's explore why you should invest in them as a promotional marketing strategy.
The Brand Benefits of Custom Water Bottles
Promotional marketing should be integral to your overall sales and marketing strategy. Yes, even in this digital age. In fact, according to the PPAI Research 2019 Consumer Study, eight out of ten people like getting promotional products. And seven out of ten wish they received promotional products more often.
And while that study may just look at promotional products overall, a 2022 ASI Ad Impressions Study found that drinkware was the number-one most influential promotional category in the Southeast, Midwest and Pacific regions of the United States.
That same study also found that, on average, consumers keep their drinkware items for a year — indicating that people like functional, high-quality promotional drinkware. It also found that 84% of baby boomers own promotional drinkware and 71% of Gen X'ers are more likely to do business with an advisor with promotional drinkware.
How Much Should You Spend on Customized Water Bottles
With those statistics in your back pocket, you may wonder how much you should spend on custom water bottles. This, of course, comes down to your marketing and advertising budget. But a good rule of thumb is to look into last year's sales, compare them to projected sales for this year and decide on the percentage that makes the most sense for your organization.
Coming back to the 2022 ASI Ad Impressions Study, 70% of consumers keep promotional drinkware that is high-quality and useful — so you may want to keep that in mind when you begin brainstorming your next branded water bottle purchase.
How to Customize Branded Water Bottles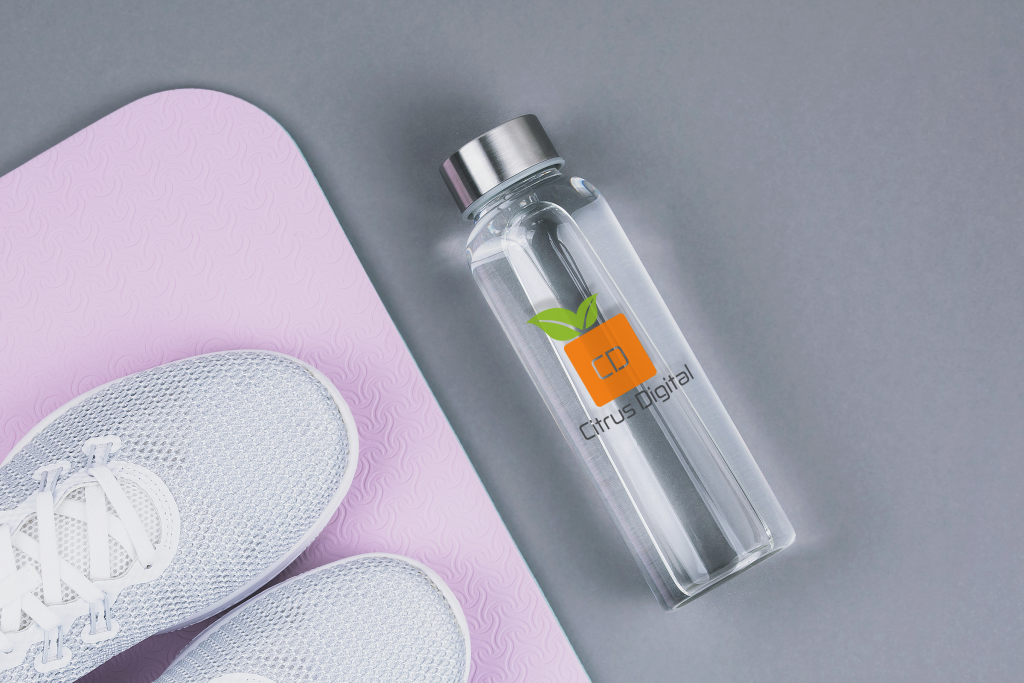 Once you have landed on your next promotional water bottle of choice, we can begin the production phase. You have a few options for imprint methods and customization areas.
Imprint Methods
There are three primary methods for imprinting your logo on a water bottle — screen printing, full-color prints and laser engraving.
Screen Printing
With screen printing, ink is painted directly onto the bottle using a silk screen. Because the ink is mixed manually, screen printing yields a higher-quality imprint that will match your brand logo colors exactly. It is also a more budget-friendly option. Remember, however, that screen prints will wear down over time after several washes.
Full-Color Printing
Full-color printing is a digital process using cyan, magenta, yellow and black. This method is much quicker to produce than screen printing, but since the colors are limited, brand logo colors may not exactly match. This print is also more likely to wear down over time after several washes.
Laser Engraving
Finally, laser engraving uses lasers to cut your design into the bottle — providing a high-end finish that does not fade over time. This is a popular choice for stainless steel water bottles!
Customization Areas
You want to choose the best possible location on your custom water bottles to ensure brand exposure. Thankfully, water bottles offer a decent amount of logo "real estate." Your logo can be printed as a standard front imprint, on both the front and back, as a full wrap or on the water bottle's lid.
Pinnacle Promotions Can Help With Your Next Big Project
And there you have it! You can now confidently go forward and find the branded water bottle that best fits your company's needs. No matter what water bottle you choose, you can feel confident that you are making an excellent choice for your promotional marketing efforts.
At Pinnacle Promotions, we know a thing or two about promotional marketing. No matter what your campaign needs are, we have the solution. Call us at 877.300.2007 and give us the scoop on that next big project — we can assist with IdeaKits™, corporate gifts or even your very own Company Store!
Written by Chrissy Petrone
Content Marketing Specialist