If you've ever left a networking event or trade show with a goodie bag loaded with promotional items, then you have some familiarity with a swag bag. A quality swag bag has the potential to delight event attendees and keep your business top of mind long after the event has passed.
What is a swag bag?
But let's rewind for a minute: What is a swag bag? What does "swag" even mean? Briefly, here is what you need to know about the meaning of swag bags:
Swag is an acronym for "Stuff We All Get."

Swag refers to promotional items that companies hand out to attendees as a form of advertising.

To delight attendees with a swag bag, event managers and marketers must develop an effective promotional strategy.
Swag Bag Items
If you can recall the goodie bags you received as a child after attending a friend's birthday party, swag bags are basically the adult equivalent. Swag bags usually contain promotional items, free samples from sponsors and anything else that could potentially excite recipients and leave a lasting impression on them.
From custom power banks to recycled paper journals to custom branded toys, swag items can come in all different forms. These items are usually handed out in the form of branded tote bags that partygoers can use again to maximize the visibility of the brand.
A Brief History of Swag Bags
"Swag" isn't a new term. In fact, it's not even a new concept. We've been giving out swag since the 1700s, and at funerals, of all places!
While the meaning of swag has steadily evolved over the years, the goodie bag we know and love today first arose during the dot com bubble. They gained widespread attention thanks to the Oscars and the Emmys, which were known for giving out swanky, lavish gift bags as a consolation prize for all the nominees.
Today, swag bags are used for a variety of events, from fun runs and races to conferences to fundraisers and everything in between. Whether you're a startup trying to create brand familiarity or an established company wanting to generate buzz for a new product, a swag bag can be an extremely effective marketing strategy for your business.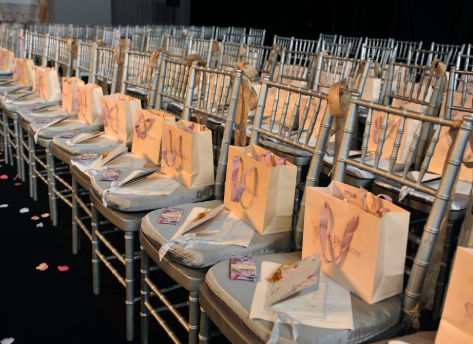 How Your Business Can Benefit from a Quality Swag Bag
So, why should your business bother with swag bags? Look around your office desk and ask yourself how many promotional items you see. If you're like most people, you have a decent number of branded pens, notepads and other useful promotional products lying around.
For proof that swag items work, just look at this 2016 report from the Advertising Specialty Institute (ASI), which found that 85 percent of people can recall the name of the company that gave them a promotional product. Additionally, a 2014 report from ASI found that over one-third of swag receivers are more likely to do business with the company that gave them the swag.
When you don't have the marketing budget to spend on television or radio ads, swag bags offer an affordable method of getting your brand name out there. Also, affordable doesn't need to mean cheap! As we'll discuss below, you can easily create a swoon-worthy swag bag without breaking the bank.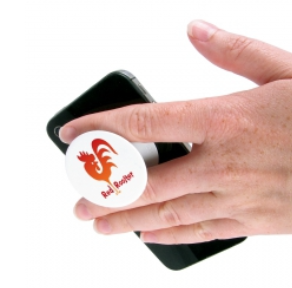 Elevate Your Brand with the Right Swag Bag Items
Cheap promotional products are never the way to go. Think about it: the longer your promotional products last, the longer your brand name stays visible. We also know that many businesses are working with tight budgets and don't have the money to go all out with their swag bags.
With that in mind, here are some of our favorite swag bag ideas that will delight attendees without running your promotional budget into the ground:
Drink Bottles—

Everyone could use a custom water bottle to keep in their car or carry to work. They also come in a wide variety of materials and price ranges, so you'll have no trouble finding

custom tumblers

to fit into your budget. 

Additionally,

branded water bottles

and

branded mugs

are known to be excellent options for those looking to generate some additional buzz. Custom mugs are great too!

Branded Pens—

Okay here us out, this might not seem like the most "fun" thing to giveaway but it is practical. It's something a lot of people will use everyday and it's a great reminder of who you are. Definitely don't skip on

branded pens

.

Tech Accessories—

According to Pew Internet,

95 percent of Americans

now own a mobile device. Filling swag bags with

custom tech giveaways

such as pop sockets and chargers is sure to be a hit with attendees.

Product Samples—

If your product or service can be offered in sample form, consider putting them in your swag bag. Giving attendees a small taste of what your business has to offer can convert them into loyal customers.

Unique Promotional Products—

If you want to make a splash with your swag,

check out our unique promotional items

that are guaranteed to delight event attendees.
A Few Tips Before We Go
It's clear that swag bags can create brand familiarity and delight event attendees. They also have the potential to be a massive disappointment and a waste of money if event managers don't know what they're doing.
Before you order cool swag items for your swag bag, remember that your items need to be useful, relevant and align with your brand. Why not check out our best sellers for more inspiration before you go and if you need help choosing promotional products that will give you the best bang for your buck, we're happy to help! Get in touch with us and we'll help you create a swag bag that makes a lasting impression on your target audience.