Trade shows can easily cost in the tens of thousands of dollars, especially if you opt for a larger booth. But what can you do when you don't have that kind of money? It's possible to exhibit at a trade show on almost any budget. So, to help you out, we've put together our seven best tips for creating trade show booth ideas on a small budget.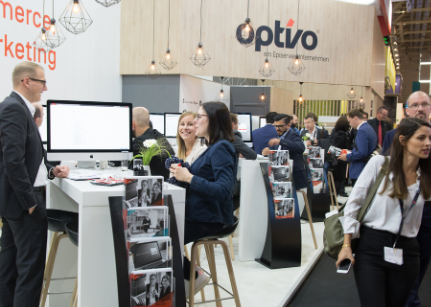 1. Check to see what's already covered.
Many, though not all, expos will provide exhibitors with a table and a cover and/or skirt. However, the cloths are often plain colors (black or white are pretty standard) and therefore might not complement your company color palette. Double check your contract, and if the information isn't included, reach out to your trade show sales rep via phone or email to confirm what the expo will and won't provide.
2. See what you have on hand.
Take assessment of everything you already own that might be helpful for a trade show booth. Be sure to investigate supply closets and any other storage spaces in case old trade show booth supplies are hidden away. If you're really on a budget, you can also ask your team if they'd be willing to contribute anything from home. Someone may have a booth game they're willing to let you borrow, or an unused tablecloth that doesn't match their color scheme anymore.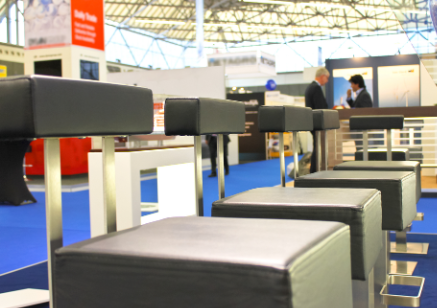 3. Consider renting furniture.
Booth furniture is one of the biggest expenses when it comes to outfitting a trade show booth, which is why there are many companies that offer rental services. If you only exhibit on occasion, it might make more financial sense to rent furniture rather than purchasing it outright. However, if you attend a lot of shows, buying the furniture may be worth the investment in the long run, so do the math (and don't forget to include shipping charges.) If you'd like to own your booth but don't want to pay like-new prices, used booth furniture is also available for sale.
4. Maximize your tablecloth and runners.
A trade show table cover is the linchpin of any basic trade show booth design. These tablecloths come in many different colors and are customized with a large logo right on the front. Table covers and runners are an up-front investment, but you'll use them at basically every trade show, so they pay for themselves over the long run. Table covers come in standard lengths of 6 feet and 8 feet, and some convertible options that adjust to either length are available as well. If the tablecloth doesn't come with one, you want to consider getting a case to protect it while in storage and transit.
5. Choose cost-effective signage.
Flags and banners are another way to make a big statement without breaking the bank. Like custom table covers, these promotional banners are a classic fixture of trade show booths for a reason. Retractable banners are easy to transport and come in both tabletop and floor versions, while feather flags will rise above the competition (quite literally) thanks to their height. If well taken care of, promotional banners can last through many trade shows, so pick a design you can use for at least a couple of years.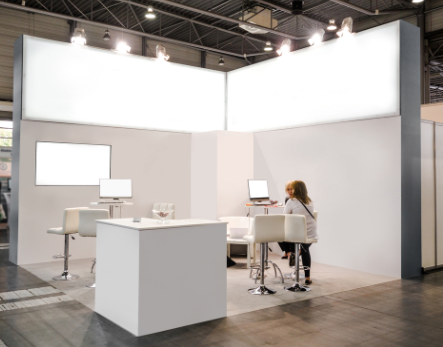 6. Coordinate your outfits.
Having all your booth hosts wear the same polo shirt with your corporate logo is a great way to communicate your brand wherever they go on the trade show floor. If the design is especially cool, giving away matching t-shirts at your booth to visitors would be the perfect tie-in. If your team isn't that keen about completely matching, or you don't have the money to spend on shirts, you can ask everyone to dress in company colors while still letting them choose their own outfits. That way, everyone's clothes will go together without being too matchy-matchy.
7. Don't forget your giveaways.
Promotional giveaways for booth visits don't have to be pricey to make a big impression. Some of our most popular and cost-effective promotional giveaways include custom USB drives, branded notebooks and promotional water bottles.
Even if you're on a tight budget, you can still create a good-looking booth that will attract plenty of visitors. Follow these seven tips as you brainstorm trade show booth ideas for small budgets.