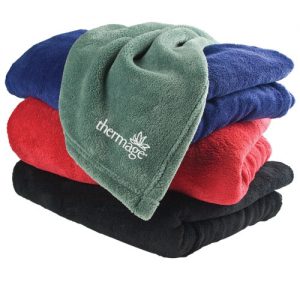 Outfitting your employees with top-notch company swag is a great way to boost loyalty and build pride in your brand, but not all swag is created equal. One of our favorite unexpected company giveaways is the custom blanket. The perfect pick for picnics, sports games, concerts and snuggling up with a good book at home, custom blankets let your employees show off your brand wherever they go.
As the cold weather rolls around, you're going to want to start thinking about some warm, winter swag—hello, custom sweatshirts and touch screen gloves—for employee appreciation gifts or corporate holiday presents, and custom throw blankets are a good choice for year-round use.
We recommend these fan favorites for all sorts of company milestones, including:
New hire welcome gifts
Employee anniversaries
Retirement gifts
Employee incentives
Company holiday gifts
Weekly wins
Why custom blankets are a good choice
The experts consistently recommend choosing corporate swag that's
useful and high-quality
to garner the most impressions, and promotional blankets certainly meet those standards. There are many reasons to design your own blanket to add to your
company's swag bags
, including:
They're unconventional—When you think about typical corporate swag, you're probably thinking about classic but arguably basic items like promotional T-shirts and pens. Everybody loves a giveaway, but you can bet you'll get even more smiles when you hand out something a little less expected, like custom throw blankets. You might even find that employees want to share their swag with friends on social media.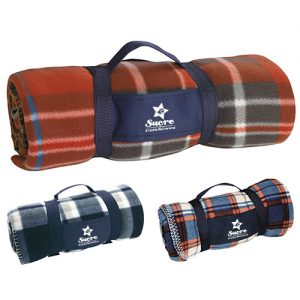 They get lots of use—One of the facets of a well-chosen branded product is its usefulness. If you brand items that are just going to sit in a drawer for years to come, there's a good chance your ROI will be lower and you'll feel like you've wasted company dollars. Instead, pick something that's more likely to get plenty of use. In the cold months, company blankets get used nonstop both at home and away, providing ample branding opportunity.
They suit your brand—If you're looking for a promotional item that plays into whatever product or service you sell, custom blankets may be a good choice. We often see them employed by businesses that are focused on sports, camping, the outdoors, driving and relaxation. With so many styles to choose from, ranging from soft and cozy travel blankets to hooded blankets, you're sure to find a blanket that's appropriate for your business narrative here.
They're versatile—Because you can customize many unique blanket styles with your preferred coloring and design, blankets make solid swag for a wide range of applications. Of course, they are a very popular pick for employee gifts, but they can also be used to woo potential clients, partners and investors. In other words, they're ideal internal and external corporate giveaways.
They're high-quality—Like most promotional gifts, branded blankets come in many different tiers, from economical to premium, to suit your budget and vision. You can make your corporate swag stand out when you invest in some premium custom throws made of heavenly soft material like Sherpa, micro mink and cozy cotton.
They can be high-tech—If blankets seem like a totally low-tech swag option, you haven't seen the latest and greatest blankets on the market. You'll find blankets with built-in speakers, blankets with included ground stakes (so they don't blow away in the wind) and blankets with handles for convenient, portable use. For these reasons, swag blankets are even a popular choice for tech companies.
More unique company swag ideas
If you're in the market for company swag that you know will be loved by all employees, make sure to head on over to our
best-sellers section
to get some great ideas. Pinnacle Promotions is always here to help you choose the right corporate promotional items for your specific needs, end use and budget. Don't hesitate to contact our dedicated customer service team if you need any guidance or advice on your purchase.