Figuring out what to wear for conferences and trade shows can be tricky. On the one hand, you don't want to look sloppy, but on the other hand, you also don't want to dress so well that you intimidate trade show attendees. There's also the huge importance of dressing in a way that aligns with your brand culture and image.
If you don't know what to wear to a conference, you're in good hands. Before we give you some trade show attire tips, here is what you need to know about dressing for your next event:
The best trade show apparel strikes the right balance between comfortable and professional.

Branded trade show apparel can make your booth staff look and feel like a cohesive unit and may help you attract high-quality leads.

Dressing for your industry and your brand is essential to looking professional on the trade show floor.
1. Check the Weather
Every seasoned exhibitor knows to check the weather forecast before they get ready for their trade show. If it's going to be pouring rain all day, you'll want to dress accordingly so you don't arrive to the event with mud-splattered pants and wet feet. If you've ordered custom umbrellas with your company logo, this is also the perfect opportunity to show off your brand before you even set foot on the trade show floor.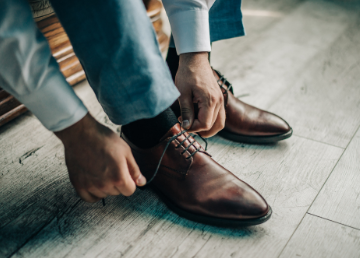 2. Wear Comfortable Shoes
You're going to be standing on your feet for hours on end, interacting with attendees and handing out trade show giveaways. Unless you want to be grimacing in pain all day, good footwear is essential. Comfortable, yet professional-looking shoes can be hard to find, but they're worth the hassle and price. At the very least, you can always try using custom insoles to help stabilize and support your feet.
3. Have Your Staff Wear Coordinating Outfits
We can't stress enough the importance of having a cohesive trade show display, from your booth décor to your booth staff. Outfitting your booth staff in branded trade show apparel not only makes your booth look more professional, it also makes your team members stand out from other trade show attendees.
And trust us, your trade show booth could probably use all the help it can get to attract more foot traffic. With the average exhibitor investing 31.6 percent of their total marketing budget into exhibiting, you can expect the competition to be fierce. Wearing branded apparel is just another way to make a strong first impression on attendees and capture more leads.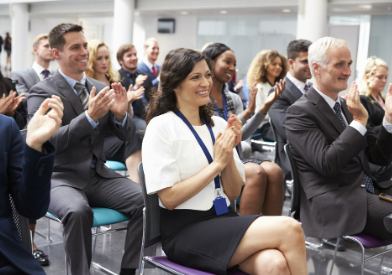 4. Dress for Your Industry and Status
What you wear at a trade show or conference will largely depend on your industry. For example, those in the financial and banking industry may want to wear more formal attire compared to those in the outdoor industry.
On a similar note, you'll want to pay extra close attention to your attire if you're speaking at a conference during the show. For men, a suit with slacks will fit in just fine at most conferences, while women can dress in either a full suit or a dress with closed-toe shoes. If you're concerned about appearing too intimidating to attendees, consider adding a pop of color beneath your formal attire to make yourself appear more approachable.
5. Make Your Outfit Versatile with Layering
Wearing layers at conferences and trade shows can be a huge life-saver. If someone spills their drink on you (which happens often, given how crowded trade shows are), you can simply remove a layer and reveal a clean shirt underneath. Smart layering can also save you money because you don't need to shop for a new top for every trade show. Just wear the same base layer while switching up your outer pieces.
Make a Good First Impression
When deciding what to wear for a conference or trade show, there is more at stake than you might think. You and your fellow exhibitors are investing a significant amount of marketing dollars into your upcoming trade show. In fact, exhibitors spend $24 billion annually on trade shows, according to statistics compiled by HubSpot.
To win your next trade show, dressing the part is a key component to your success. With these tips, you can increase your likelihood of attracting prospects and making a great first impression on attendees.