With summer coming to a close and autumn on the horizon, the holiday season is just around the corner. For many brands, it also means gearing up for corporate gift giving. Whether your recipients are employees who deserve recognition for a great year, partners you want to appreciate or customers who have supported your growth, corporate gift giving will play a significant role in your brand recognition and reputation this year.

Still, sourcing gifts is time-consuming! How can you pick the perfect promotional product that shows gratitude while staying on trend and within budget? That's where Pinnacle Promotions comes in with our 2022 hot holiday gift trends.
2022 Hot Holiday Gift Trends
I sat down with Jeannie Hurley, Merchandising Manager with Pinnacle Promotions, to chat about great advice for tackling the holidays this year. So let's dive right in and get the scoop on the best holiday gifts to showcase your brand.
Stylish and Sustainable
First and foremost, sustainability will play a big part in this year's trends. ASI confirms that pushing promo towards more sustainable practices will positively impact not only the planet but your customers as well.
And Jeannie agrees, "Sustainability has been the breakout trend we've seen this year, which will play a big role this holiday season. Expect products made with earth-friendly materials, like the Field & Co. 100% Organic Cotton Check Throw Blanket, Bamboo Fast Wireless Charging Dock Station, and the stainless steel S'well Shaker Set."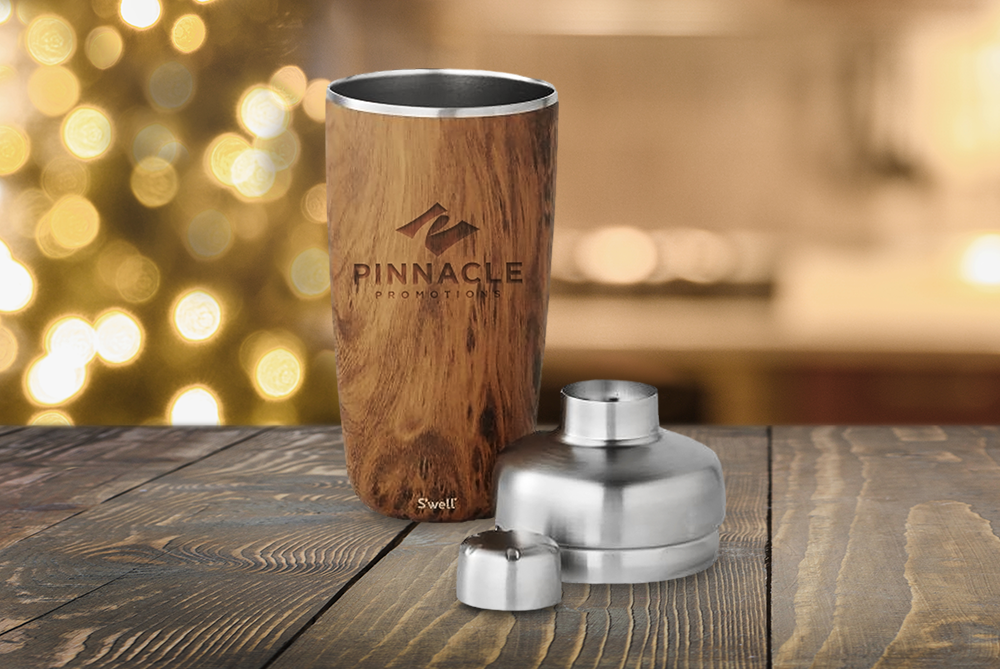 Big Name Brands
We, of course, can't forget our favorite brand name products! These big names will definitely play a part as companies aim to impress consumers this year. Jeannie says, "Retail brands are also key this year, and we've had some big names join our industry recently. Hydroflask, S'well, and Vineyard Vines are all in-demand newcomers, while legacy brands such as Yeti, The North Face, and JBL continue to dominate holiday wish lists."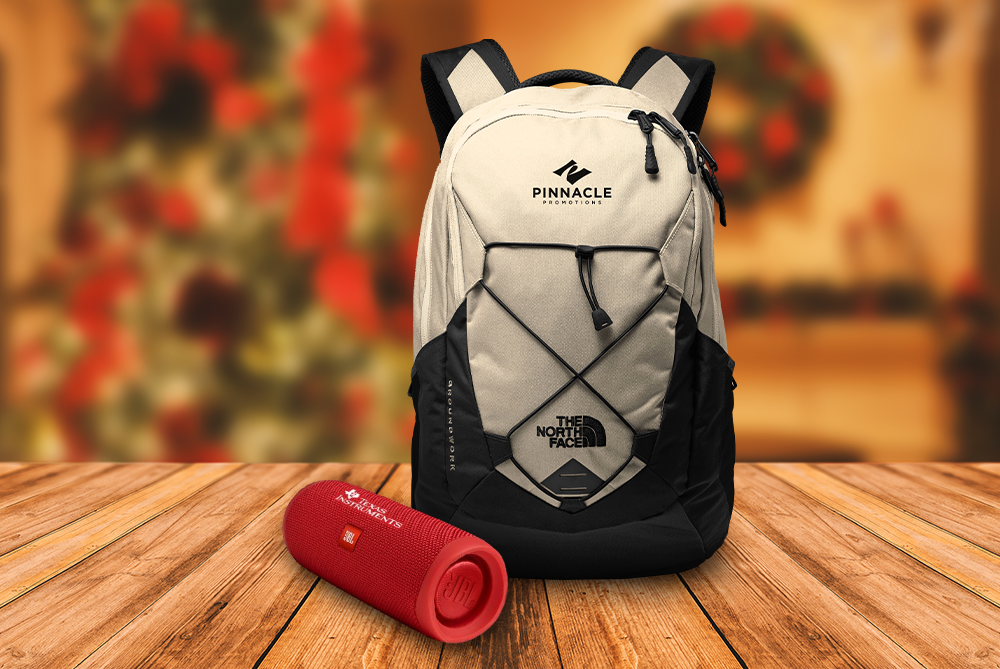 Corporate Kits
COVID-19 has changed the way we interact with our network. Since many employees and partners continue to work remotely, corporate kits have become an excellent way to help employees and partners feel appreciated from a distance. What makes these kits so fun is that they are built with several items within one package.
Jeannie says that holiday kits are expected to be a huge hit this year. She went on to say, "Holiday kits contain between 2-4 products, packaged in a custom printed box and drop shipped to your individual recipients. They can range in price anywhere between $35-$200 depending on your budget, and typically include popular categories like apparel, tech, and drinkware."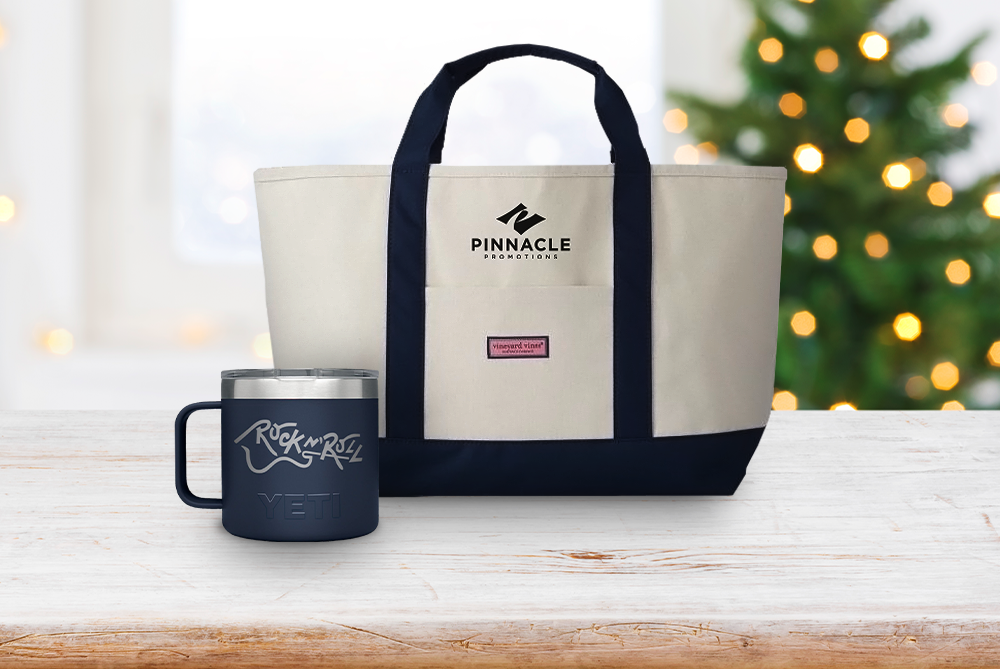 Getting Ahead of Your Shopping This Holiday Season
Marketing coordinators, administrators and brand strategists may remember the woes of last year's holiday shopping season. With chain supply issues, many had to settle for limited options or huge delays — with some gifts arriving until after the new year. Unfortunately, this trend seems to be rearing its head again this year. But don't worry, since we know this may still present a problem, it means we can solve the issue before the shopping season is in full swing.
Jeannie advises, "Don't wait to shop this year! Supply chain issues caused by the pandemic continue to disrupt inventory and staffing, both overseas and domestically. Popular retail brands sell out quickly in Q4, and apparel decorators are already extending their lead times by several weeks due to the busy season. The longer you wait, the fewer options you will have."
So what can you do to get ahead of the game? Jeannie has a solution — "Reach out to your account manager with your initial ideas, quantities and budget to get the ball rolling as soon as possible. Larger companies do this out of necessity, while smaller companies tend to wait closer to the end of the year."
Are Corporate Holiday Gifts Really That Important?
You may be asking yourself if corporate gift giving is even that important. And the short answer is yes! The 2021 Coresight Research study found that the corporate gifting market reached $242 billion last year, with an expected growth of 8% CAGR through 2024.
This means that not only are corporations prioritizing gift giving, but they are also increasing their promotional spend budgets as well, with 60% spent on gifts for clients and 40% for employee recognition.
What are the Benefits of Corporate Gifts?
The most significant benefit of corporate gifting is lasting recognition, relationship building and creating a positive reputation. The Coresight Research study stated that over 80% of gifts improved relationships with employees and clients. The main takeaway was that recipients felt valued, improved customer loyalty and increased employee retention.
Since COVID-19 has changed how we work, socialize and engage our customers, it's crucial to implement this brand strategy with innovative products that make the right impression.
Find your Holiday (P)inspiration with Pinnacle Promotions
One final word of advice from Jeannie — "Start your corporate holiday shopping now if you haven't already!" Holiday shopping doesn't have to be stressful. At Pinnacle Promotions, we thrive on creative promotional projects with perfectly branded products that arrive on time, just the way you want them. We have all the tools you need to make 2022 a holiday success, from IdeaKits™ to our very own 2022 holiday catalog. We can even store your holiday items and drop ship them as the holidays approach! To learn more, contact us today at 800.351.4226.