We're well into the new year, and it's time to get your marketing plan into gear for 2019. The right promotional giveaways are a key part of that plan, and with the new year come some new product trends...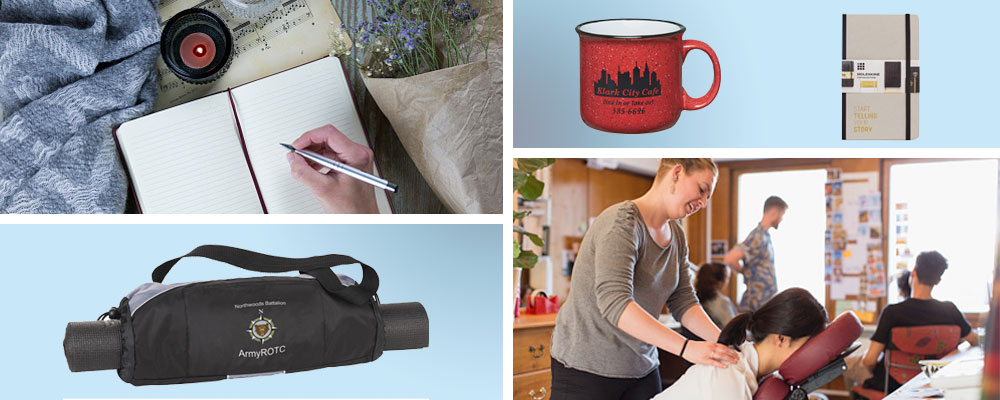 Recharge
This trend encompasses mental wealth, positivity and physical well-being. It encourages a more holistic focus on the mind-body connection and inspires your best self by creating a better balance between your mental health and physical well being. This trend sparks a collection of products ready to nourish your spirit, reflect on your thoughts and feelings, and recharge and unwind with quality time.
Over the past few years, we have seen more and more companies offer office perks to make it easy for employees to stay healthy, both physically and mentally, while on the job. According to Working Mother, "Most employers know that one of the keys to workplace productivity is having happy and healthy employees." Companies such as Nike, Google, and Microsoft have taken this concept to the next level and offer wellness zones such as quiet places to meditate and napping to fully functional gyms.
Today's culture is particularly intrigued (or borderline obsessed) with the practice of genealogy. People use the DNA test, 23 and me, or Ancestry.com to not only find out how it relates to health but they also use the results to feel included and part of something "bigger."
With all the surrounding chaos and commotion during our everyday lives, people are looking for mindfulness and seeking happy places. As discussed in the 2019 apparel trends blog, hygge – a Danish word describing a comfortable feeling that engenders contentment or well-being – is an ongoing lifestyle trend. It promotes one to enjoy cozy time; whether that's snuggling up in a soft sweatshirt, taking a candlelit bath, or enjoying sofa-side chat with a loved one, glass of wine in hand. This also speaks to the athleisure fashion trend. Athleisure clothing is designed for athletic activities, but can be worn in other settings, such as at the workplace, at school, or at other casual or social occasions.
The Recharge trend translates to the promotional product world through the warm, happy, and fantasy color palettes, various journal options, and active accessories such as yoga mats and travel pet gear bags. Products will feature pops of color that highlight warm and happy hues such as the the Pantone color of the year, Living Coral. Journals can be used to write down your thoughts, reflections, or doodles to ease your stress – some journal options are composed of lined paper and coloring pictures to add another element of relaxation. And yoga mats and travel pet gear urge one to keep fit and active, promoting mental health, positivity and physical well-being.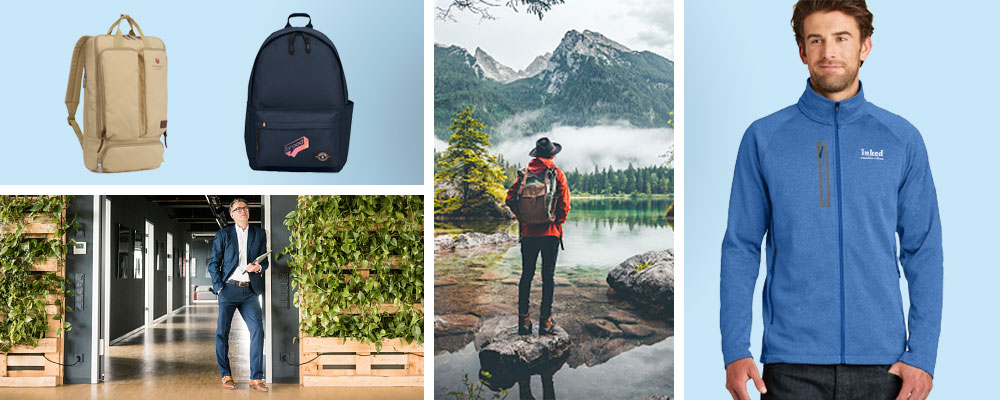 Connected Outdoors
From climbing mountains to walking in the park, consumers desire to reconnect with nature, and the Connected Outdoors trend celebrates items inspired by the great outdoors. With these product options, you can pack it all in — from business to leisure, and satisfy your sense of adventure and exploration, no matter where your travels take you.
Brands are continuing to make great strides to show their care for the environment and the measures they are taking to protect the earth. According to Waste 360, 70 percent of millennials said a company's environmental focus impacts their purchasing decisions. For example, The North Face is committed to creating durable products that stay out of landfills as well as incorporating more recycled fabric into its clothing. The brand also has a Clothes the Loop program, which rewards customers for donating old clothing and shoes.
Additionally, brands are joining the "give back" movement by donating to or partnering with major charities in an effort to raise awareness on various causes. The company Brandless believes in making better products accessible and affordable for more people, and has partnered up with the Feed America organization to donate meals to people facing hunger. Their mission is deeply rooted in quality, transparency, and community-driven values – on their website, they have three defined sections; 350+ High Quality Products, Simple Fair Prices and Tangible Acts of Kindness. Brands will continue to catch on to the the vibe of doing good, especially with members of the upcoming Generation Z demographic expecting it. Consumers believe that our world needs a lot of help right now, so there are plenty of causes to support.
You can see the Connected Outdoors trend in promotional products through rugged, earth-tone travel-style backpacks, drinkware with a purpose, and activewear or sports gear that exceeds expectations. Vendors are offering backpacks that encompass nature's colors such as olive, tan and brown. These styles of backpacks allow wearers to travel with ease due to their quality, structure and portability. Additionally, consumers today are more inclined to help protect the planet, and many companies are offering products that will benefit the environment – for example, metal drinking straws to help eliminate plastic straw waste and backpacks made from recycled plastic water bottles. These outdoor-inspired products connect consumers with their passion for outdoor experiences, no matter where they travel.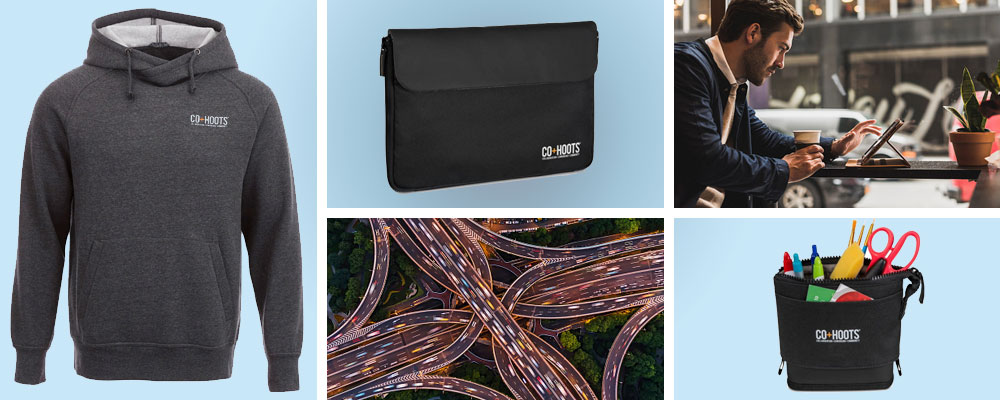 Work On The Move
Non-traditional workspaces demand products that allow consumers to work anywhere. These versatile options make it easy for digital nomads, on-the-road warriors, and sprinters running from meeting to meeting to stay nimble, organized, and productive wherever they meet to connect and collaborate.
Working remotely, sharing workspaces, and desk hopping are the now the new norm. Companies are embracing flexible workspaces with hoteling desks and conference rooms. According to ZDNet, Georgia-Pacific realized that many of their employees work remotely or from different facilities, so they removed offices on its 24 floors to create open layouts with lots of natural light. Mobility was a key factor in the decision to create the hoteling desk system. Employees have the ability to move around the floor as well as between floors, and will have the technology to connect seamlessly from any location. A mobile application allows them to book desks or rooms from any location.
The products that mirror the Work On The Move trend include technology infused into fabrics, portable and multi-purpose items, and sleek, simple designs. These products reflect the new ways we are working such as cohabitant work spaces or coffee shops. The office has transformed and the cube walls are coming down so we are adapting to a functional mobile office. Apparel and backpacks are being offered with headphone and USB jacks and power bank outlets. Multi-purpose products empower consumers to adapt to the environment while still being able to get the job done.
When buying custom products to promote your brand, staying on-trend is often the right move, as your customers and employees will appreciate seeing your branded items matching up with current retail looks. Each product and trend on this list gives you fantastic options that your company will love to give away.