Client relationships lie at the core of any flourishing business. The connections you forge and nurture with your clients can often be the difference between a one-time transaction and a long-term partnership.
In this guide, we'll embark on a journey through the intricate art of using corporate gifts strategically to fortify these relationships. From the early stages of prospecting, where client gifts and first impressions carry the greatest weight, to the cultivation of new partnerships, ongoing support for existing clients, and the significance of holiday gifts for clients, we will delve into how thoughtful gift-giving can play a pivotal role in client retention and brand loyalty.
These pivotal moments offer an opportunity to express gratitude and personalize your approach, convey your brand's values, and establish enduring bonds with those who matter most to your business.
The Power of Client Gifts
Client gifts hold a unique position in the business world. According to a study by Knack Shop, 89% believe that business gifts bring people closer together.
Client gifts transcend customary pleasantries and serve as tangible embodiments of your dedication to client contentment. When thoughtfully and strategically given, corporate gifts for clients can fulfill various vital roles:
Express Gratitude through Prospecting Gifts
Everyone knows that first impressions matter. Prospecting gifts are your initial step toward establishing meaningful client connections. Offering a small token of appreciation during your initial interactions shows your potential clients that you value their time and consideration.
When you demonstrate thoughtfulness early on you instill trust and confidence in your commitment to a future partnership. This small act can set the stage for long-lasting, fruitful collaborations.
Welcome New Clients with New Client Gifts
When a prospect transitions into a client, seize the opportunity to foster a positive impression. New client gifts express appreciation for their decision and set the tone for a fruitful collaboration.
Don't forget to align the gift with their interests or needs to demonstrate that you've taken the time to understand their requirements. This personalized approach delights them and reinforces your dedication to their success.
Celebrate Personal Milestones
Personal milestones such as birthdays, work anniversaries or promotions provide chances to strengthen your client relationships. Sending a thoughtful, personalized gift on these occasions showcases your attentiveness.
By remembering and celebrating these milestones, you establish a more personal connection, emphasizing the uniqueness of your relationship.
Recognize Team Milestones
Don't forget the individuals who work closely with your clients! Sometimes team members in different departments can become prospective clients. Team or company-wide milestones present opportunities to show appreciation and potentially extend your brand reach.
Sending gifts to celebrate these achievements reinforces your commitment to collaboration and teamwork. It also acknowledges the collective effort that contributes to successful client relationships.
Corporate Holiday Gifts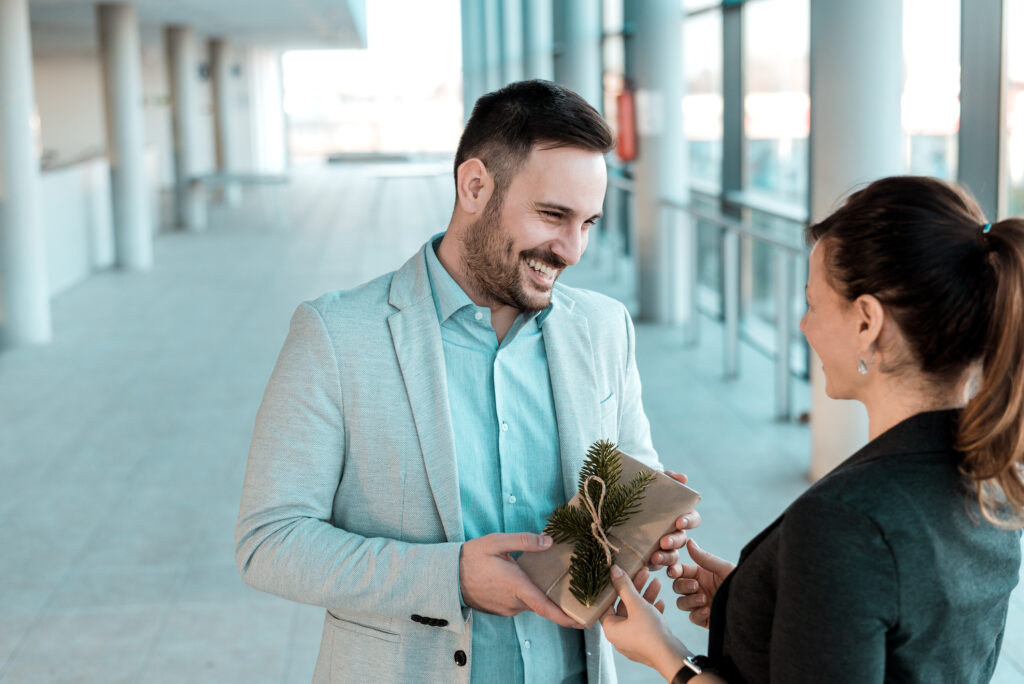 The holidays are the most popular occasion (51%) to give gifts in the business world. Corporate holiday gifts, including gifts for clients, offer a chance to express gratitude in a universal and festive manner.
Customize these gifts to maintain brand recognition while spreading holiday cheer. Personal touches, such as high-end branded holiday gifts, can make your clients feel valued and appreciated during this special time of year.
Client Check-In Gifts
Client check-in gifts are ideal for maintaining an ongoing, positive relationship. These gifts can be sent as part of routine follow-ups or simply to check in on how your client is doing.
They encourage continual engagement and demonstrate your commitment to their success. These thoughtful gestures also convey that you're not just interested in the transaction, but in their well-being and long-term satisfaction.
Implement Loyalty Rewards Programs
Loyalty rewards programs are a proactive approach to building lasting relationships. Offer incentives, exclusive offers or unique gifts to clients who have been with your company for an extended period.
Show your appreciation for their loyalty and dedication to your brand. These programs foster customer retention and demonstrate your commitment to valuing long-term partnerships.
Gifts With Purchase
Gifts with purchase are a brilliant corporate gift strategy, enhancing brand loyalty, customer satisfaction and retention. They offer added value, reinforce brand identity and create memorable experiences.
These incentives also encourage repeat business, fostering a sense of trust and loyalty among your customers and ultimately contributing to long-lasting client relationships.
The Art of Customization
While choosing the right corporate gifts for clients is vital, the customization and presentation are equally significant. Use these strategies to make your client gifts truly stand out:
Know Your Audience
Understand your clients' preferences, interests and needs. Use surveys or client profiles to gather pertinent information. For example, younger generations are more likely to want the latest trending tumbler or a thoughtfully sourced sustainable item.
It's especially important that you cater your corporate gifts to the right audience since 45% of millennials like to share their gift on social media, twice as many as boomers. Researching and understanding your audience enables you to select gifts that resonate with each client individually.
Branding Matters
Your brand identity is a powerful asset and should seamlessly align with your brand image. Customizing your gifts with your company's logo, colors, and messaging is more than just a visual representation; it's an opportunity to create lasting impressions and reinforce brand recognition.
Timing Is Key
Consider the timing of your client gifts carefully. While corporate holiday gifts are common, surprising your clients throughout the year can have a greater impact. Recognize significant milestones, like birthdays or other life events, to reinforce your commitment to the relationship.
Handwritten Notes
Include handwritten notes with your gifts. A heartfelt message, written on a branded notecard, expressing gratitude and a sincere desire to continue the partnership demonstrates that you've invested thought into the gesture.
Presentation
Pay attention to the presentation of your corporate gifts. Quality custom packaging and careful presentation can elevate the perceived value of the gift, conveying professionalism and thoughtfulness.
Follow-Up
Don't let your client gift be a one-time occurrence! Follow up with your clients to ensure they received the gift and gauge their satisfaction. Use this opportunity to sustain the conversation and reinforce your commitment to their success.
Building Long-lasting Client Relationships With Pinnacle Promotions
Corporate gifts for clients are powerful tools for nurturing and solidifying client relationships. When selected thoughtfully, tailored to individual preferences and presented with care, these gifts express gratitude, deepen bonds and set your business apart.
By integrating client gifts into your client relationship strategy across various stages, you communicate your dedication to fostering long-term partnerships. Keep in mind that building client relationships requires consistent effort and genuine care. With the right client gift strategies, you can cultivate enduring connections that benefit your clients and business.
In the words of Maya Angelou, "People will forget what you said, people will forget what you did, but people will never forget how you made them feel." Make your clients feel valued, appreciated, and cherished through the thoughtful use of corporate gifts. It's a small investment that can yield significant returns in the form of loyal, satisfied clients who are eager to continue working with your company.
Are you ready to take your client gift strategy to the next level and build stronger relationships?
Contact us today at 877.300.2007, and let our experts help you create personalized, memorable gifts that leave a lasting impression on your clients.