If you're looking to maximize your trade show presence beyond your booth, sponsorships are a fantastic opportunity to increase your brand visibility. Sponsorships come in many different forms and are available for practically any budget. Here are 21 trade show sponsorship ideas to help get you started:
Recycling and/or Trash Bins
Trash cans and recycling bins help keep the trade show floor clean and clutter-free. Pretty much every person has to throw something away at least once a day, meaning that you can get thousands of interactions with these bins a day. While this sponsorship won't be a fit for every company, for some it's a perfect fit. For example, it totally makes sense for a plastic packaging company to sponsor a recycling bin for plastic water bottles.
Wayfinding
Getting around a large conference hall (or worse, multiple parts of an entire building) can confuse attendees and cause them to become lost. You'll create a lot of goodwill simply by helping them find their way, whether that's through printing maps of the venue or sponsoring signs and banners posted around the trade show floor. If you're feeling fancy, you could even create guided tours that showcase specific highlights of the trade show.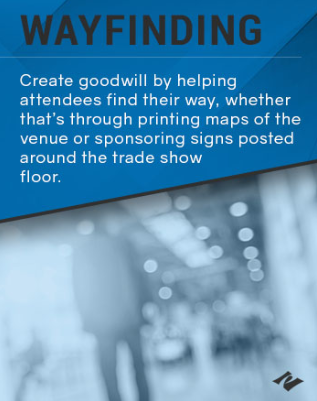 Banners, Signs and Wraps
Most trade shows have some sort of well-marked entrance with lots of signage, and passages and stairs often have their own banners as well. These large banners are an excellent sponsorship opportunity to help welcome visitors and get your company's branding out there, front and center. If you can't spring for the main entrance, wraps around stairs, elevators and other locations with high foot traffic are also good alternatives.
Water Stations
Everyone needs to drink water, and your company can help them do just that through a branded water station. Since water fountains are usually anchored to the outside walls of the trade show room, if you're mired in the middle it can take a while to extract yourself and find a fountain to rehydrate. Take full advantage of the water station and hand out custom water bottles with your logo to attendees that stop by for a refill.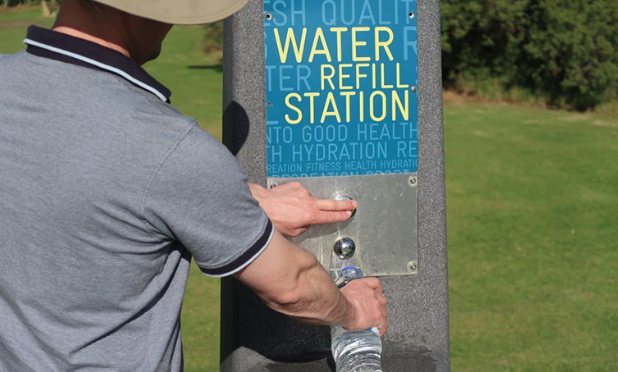 Snack Stations
If the water station idea isn't feasible, or it's already taken, consider sponsoring a snack station instead. Blood sugar runs low (and tempers run high) as the day goes on, and breaks to grab food are few and far between. Having a place to grab snacks like granola bars, chips and even fruit and trail mix will seriously help trade show visitors and give you an excellent opportunity to market your company. If you're a consumer packaged goods brand, see if you can become the official snack sponsor of your next trade show.
VIP Restrooms
Trade show bathrooms are usually clean and serviceable, but nothing to write home about. However, you can create a VIP bathroom experience by providing fancy soap and lotions or tricking out the ladies' lounge with nice furniture and good lighting. Trade shows are long and exhausting, and having a space to freshen up or do a quick change can seriously boost morale, not to mention create a favorable impression of your company.
Free Services
Ever wanted to take a break from the trade show floor to go pamper your aching self with a quick massage or manicure? You can provide that very experience on the trade show floor by sponsoring self-care activities. The same sort of services that you would see in a mall or airport can often be replicated on the trade show floor for a surprisingly reasonable cost. Just be prepared to have a line out the door for your pampering stations.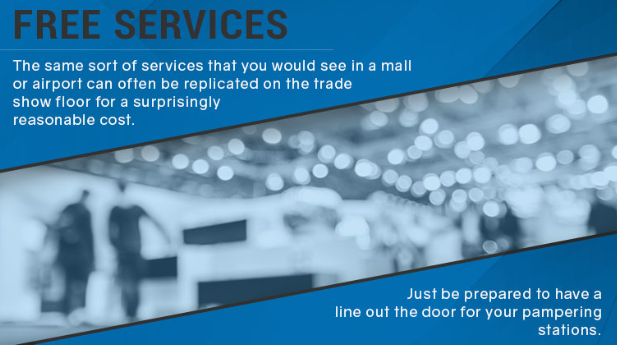 Wellness Breaks
Pampering isn't the only type of self-care you can bring to the trade show. Wellness breaks involving yoga, meditation or healthy cooking demonstrations (just to name a few) will help fight off the trade show crud, give attendees a break from the onslaught of booths and workshops and give you a chance to show your company's commitment to health. Wellness break sponsorship ideas are particularly well-suited to businesses in the wellness, healthcare and nutrition spaces if you're looking for something that's thematically relevant.
Lounges
Everyone needs a chance to take a phone call, answer emails or just kick up their feet at trade shows, and lounges provide the perfect environment to do that. Gather some comfy couches and chairs (preferably in your brand's colors), throw some rugs on the floor and add some throw pillows for an extra homey touch. If you'd really like to splurge, you can also sponsor phone call booths, somewhat-soundproof booths that help filter out background noise and make it easier to hear phone calls in noisy environments such as trade show floors.
Play Areas
All work and no play make Jack a dull boy—and trade show attendees very tired adults. Everyone needs an opportunity to let their inner child out and get creative. Ball pits, drawing stations and toy bins are all fair game for a more lighthearted trade show display. Obviously, if you're a toy company or an art supply business, this sponsorship idea makes perfect sense, but you can also make it relevant to your company by theming the station around your business—for example, using toy dump trucks in a demonstration if you're a construction supply company.
Photo Booth
Pics or it didn't happen! Photo booths are popular for a reason: People love to show off photographic evidence of themselves doing cool and interesting things. Photo booths can take many forms, including props, backdrops and large cardboard cutout frames that people hold up around them. Stick with a traditional plain background or transport people to a new location using a photographic mural.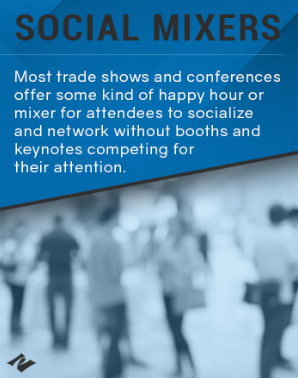 Social Mixers
Most trade shows and conferences offer some kind of happy hour or mixer for attendees to socialize and network without booths and keynotes competing for their attention. The drinks, food, table linens and more all have to come from somewhere, and that's why sponsoring them can be a great way to earn attendees' goodwill and create a memorable experience. Make sure a few of your own employees attend to mingle with the guests and make new connections.
Keynote Speeches
Speaking of keynotes, many of these speeches are sponsored by large donors. Since keynotes are the main event, they're often more expensive sponsorship ideas, but they have a big impact since so many people come to them. If a keynote is out of your budget, smaller panels, workshops and other events may also be an option. Your trade show rep will be able to talk to you about sponsorship tiers and help you find something that fits your budget.
Competitions
Many exhibitors run competitions or raffles at their individual booth, but running a trade show-wide competition through a sponsorship will help you reach more attendees. Make sure the competition idea matches the theme of the conference, whether it's a trivia contest or an obstacle course. If the trade show doesn't currently have plans to host such a competition, start talks with them early, as this will require some planning on both your parts.
Swag Bags
No list of sponsorship ideas would be complete without swag bags. Most conferences give attendees a bag full of goodies at registration, including pens, notebooks, USB drives, t-shirts, fans, umbrellas and anything else that might be helpful given the weather or conference location. While you still have your own promotional giveaways to hand out, becoming one of the official swag bag sponsors will ensure that every single visitor gets an item with your logo on it–a pretty persuasive proposition.
Podcasts
Trade shows and conferences are a great chance to record podcasts or radio interviews since so many speakers and subject matter experts are gathered in one place. Ask around to see if there are podcasters who plan to cover the event (the trade show association might even be planning to do it on their own) and offer to sponsor the episode. You can also take it one step further and sponsor the creation of a booth where these interviews can take place without all the interference of the trade show background noise.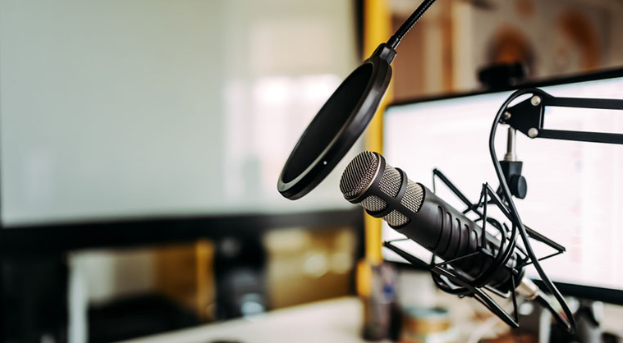 Live Streaming
Live streaming keynotes and other important speeches and panels can help both the sponsors and the trade show reach a wider audience, making it a win-win for everyone involved. If there aren't already plans in place to live stream the trade show, reach out to the organizers and offer to sponsor it. Even if they were already planning to offer a live stream, they'll surely be grateful for some help to defray the costs.
Virtual Reality
Demonstrations on VR headsets are a crowd pleaser at any event, which is why sponsoring them at a trade show is a great idea. Of course, you can always offer the VR demonstration at your own booth, but you'll reach more people if you're the official virtual reality sponsor of the entire trade show. Choose a simulation that's relevant to the theme of the trade show: a mock surgery for a healthcare trade show, for example.
Event Apps
Most conferences have their own dedicated app to help attendees build their own custom schedule and keep them up-to-date on last minute changes. However, these apps can often be difficult to use and may constantly crash if too many people use them at once. See if your company can sponsor a new, improved trade app experience for the next exhibition. Not only will you be offering attendees important information, you'll also be able to promote your business within the app itself. If rehauling the app isn't within your budget, look into in-app ads instead within the existing system.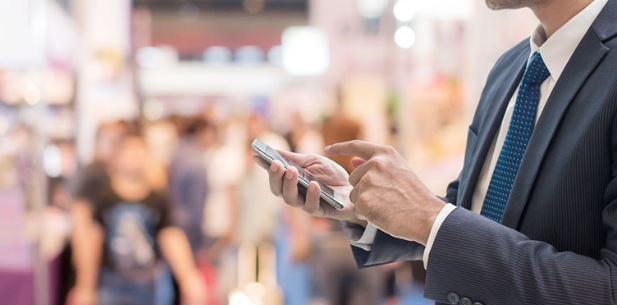 Wi-Fi
After water, food and bathrooms, Wi-Fi is one of the most critical essentials for a trade show floor. Attendees will need to check email and do other business during the day, and many trade show displays will rely on the power of the internet as well. Since the spots for Wi-Fi sponsorships are usually limited (you only need a handful of networks, after all), start discussions with your trade show rep early if this is a sponsorship idea you'd like to pursue.
Charging Stations
Of course, having that Wi-Fi does you no good at all if your device is already dead because it ran out of power. Charging stations provide another essential resource to visitors, and encourage them to stick around and interact with your brand more as they wait for their devices to charge. The captive audience means that they'll have lots of quality time with your trade show display as their phone sucks up some much-needed power. While they won't be as fast or as powerful as an actual charging station, portable power banks make excellent themed giveaways as well.
It's critical to choose the right sponsorship opportunity for your marketing strategy so you can maximize your trade show ROI without going over budget. Consider one or more of these 21 sponsorship ideas at your next trade show.