So, you'd like to host a prize giveaway on your social media channels or at your next trade show—but how should you go about it and what prizes should you offer? Do prize giveaways really work? Below, we explain the seven reasons why prize giveaways work and then we dive into the two main types of promotional giveaways: trade shows vs. contests/sweepstakes. Finally, we explain the rules for each one and offer prize giveaway ideas for your next campaign.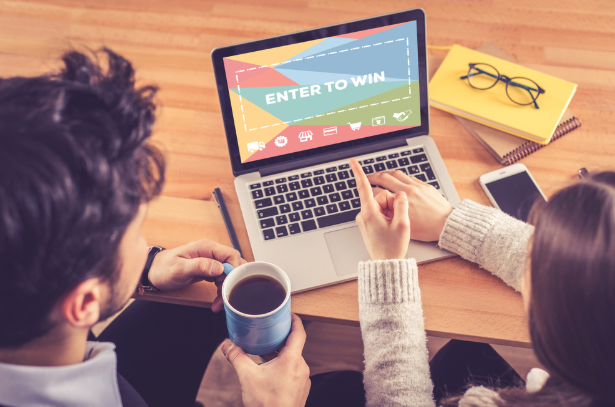 Why host a giveaway?
There are almost as many benefits to giveaways as there are prize giveaway ideas. Not every giveaway has the same purpose and a single giveaway may have multiple purposes depending on the company's goals. Here are seven reasons why your business might want to host a prize giveaway:
Capture leads
Many giveaways require you to sign up for a newsletter or otherwise give your contact information in order to receive the product or enter the contest. Most people are happy to give you an email address in exchange for a free product, making giveaways an easy way to grow your list and capture leads.
Grow social media followers
Not all giveaways are based on exchanging email addresses. Many companies run giveaways on social media, where participants must follow, like, retweet, comment, tag others or some combination thereof in order to enter. This approach will get new followers on board and encourage existing fans to engage more with your brand and each other.
Give back to fans
Speaking of social media and email lists, doing a giveaway can be a great way to give back to your existing subscribers. To say thank you, you can open the giveaway only to existing followers and then randomly pick a winner (or winners) to show your appreciation for your community.
Demonstrate the product
Depending on what product or service you sell, you might be able to make it the giveaway. This strategy gives people the opportunity to try your product or service for free (or at a discount, if your giveaway is a coupon). Many people are hesitant to try something new if they have to pay for it upfront, but if you remove that barrier to entry, people will be far more likely to give it a chance. If they love your product, then they'll be willing to come back and buy it later.
Act as a loss leader
Free samples and giveaways frequently lead to people making greater purchases in the long run. Even if people have already made a purchase from your company, offering coupons or free giveaways (such as an annual birthday gift) encourages them to visit your store or website more frequently and to buy other products while they're there to pick up the free gift.
Generate free publicity
If you're at a trade show, attendees walking around with your branded promotional giveaways is basically free advertising. The same goes for social media, since shares and retweets will show up on the sharer's timeline. This can be much more cost effective than purchasing signage or digital ad space. Which brings us to the next point:
Save money and time
Giveaways make it easy to stick to a budget. You figure out the per unit cost, multiple it by the number of giveaways and voila, that's your budget. Once you set up the initial contest rules, prize giveaways don't take up too much time, so they're also efficient as well cost effective. Nor do they require a lot of technical knowledge to run, so the learning curve is low.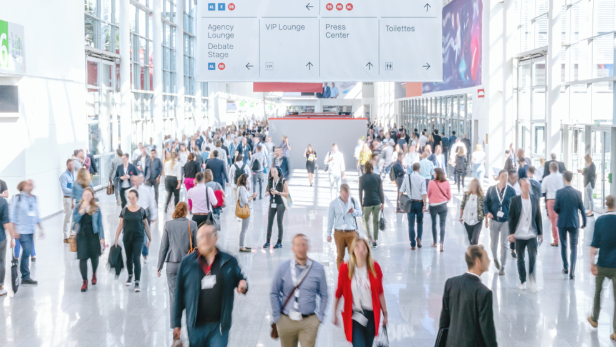 Trade show giveaways
There are a couple of different strategies for trade show giveaways. Many organizations opt for inexpensive items that can be easily carried around the trade show floor, so they can hand one out to everyone who visits the booths or signs up for their mailing list. Companies may also choose to offer larger prizes for attendees who win interactive booth games, raffles, etc. Some businesses opt for a combination of these two. For example, they may hand out custom USB drives to everyone who visits the booth and signs up for the mailing list. Whoever signs up for the mailing is also automatically entered into a raffle for a nice portable speaker as well.
Here are some of our favorite suggestions for trade show giveaways:
Custom bottle opener keychain
You don't think of needing a bottle opener until you need one, and then you really regret not having one. Bottle opener keychains are usually made from metal, so they're durable and will last for a long time. They're also small and very portable, making them an excellent choice for a trade show giveaway. Bottle openers are quite affordable (definitely under $2 a unit, and often less than $1) so you can hand one out to every visitor without breaking the bank. Plus, they attach to a key ring, so your recipients will think of your company every time they reach for their keys.
Promotional t-shirt
The promotional t-shirt is a trade show classic for a reason. They're pretty affordable, come in many colors and styles and pack easily in a bag or carry on. Choose from dozens of options, from your basic cotton tee and long-sleeve shirts to moisture-wicking performance designs and fashion-forward trendy styles. T-shirts come in multiple sizes as well as many different cuts: men's, women's, unisex and even kids. And let's not forget the colors. Pick from beige, black, blue, brown, gray, green, orange, pink, purple, red, white and yellow to find the perfect hue to make your logo pop.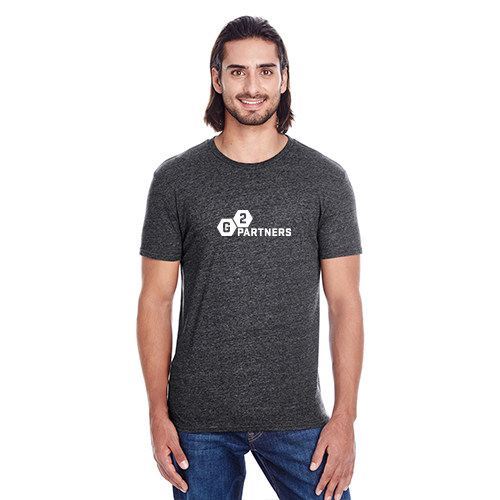 Silicone card holder
We're carrying more and more important information in our phones, but many people also find it necessary to carry a wallet for their ID, credit cards, cash, etc. Silicone card holders attach to the back of a smartphone or case and let you carry essentials all in one convenient package. They're perfect for traveling, going out, hitting the gym, going for a run—any time you need to take the essentials but don't want to bring your full wallet. And every time they reach for their phone or their cards, people will see your logo on the back of the silicone card holder.
Custom tote bag
Trade show attendees need some way to carry all the swag they receive, and offering them a custom tote bag is a surefire way to earn some goodwill. Many different styles are available, including the classic trade show bag, grocery and shopper reusable bags, large totes and all-natural bags made from cotton, canvas and jute. Bags also offer a lot of real estate to feature your logo, plus the bags will be extremely visible as people carry them around the trade show floor. And we can't forget to mention that promotional gift bags get an average of 7,000 impressions in their lifetime, making them extremely effective.
Contest and sweepstakes giveaways
There are three main types of giveaways where only some (not all) participants win a prize. They are:
Contests: In contests, effort, skill or merit is required to enter to win a prize, and chance cannot play a role. The winner is determined by voting, percentage of correct answers or other judging criteria.

Sweepstakes: In sweepstakes, the winner is picked at random, so the prize is based on chance. No payment, purchase or other consideration is allowed. In certain states, providing contact information that will be used later for marketing purposes counts as a consideration, so check your local laws.

Lotteries: In lotteries, participants must purchase or pay for something in order to enter, and the winner is determined by chance. Private lotteries are illegal in the U.S., so don't host one! Stick to sweepstakes and contests instead.
While they're sometimes called "giveaways," most promotional campaigns of this nature are technically sweepstakes. Whether you're running a contest or a sweepstakes, here's what you should include in the description so you don't rule afoul of any laws.
"No Purchase Necessary"

"Purchase does not enhance chance of winning"

"Void where prohibited"

Details regarding non-monetary consideration (i.e., submitting an email address to enter)

Identity of the host/promoter (i.e., your company)

An explanation of all methods of entry

Eligibility requirements

Beginning/ending dates, including time and time zone

Date winner(s) will be chosen and notified

A clear description of the prize(s)

Judging criteria (when applicable)

Method of selecting winner(s)

Publicity rights regarding use of winner's information

Publicity rights regarding use of participant's information

Liability limitations

Odds of winning

Physical address (not a P.O. Box)
Different states also have different rules about promotional giveaways. Before conducting a contest or sweepstakes campaign, research any relevant state laws and make sure to abide by them. If you're planning to run a giveaway via social media, rather than in person at a trade show, each social media platform also has its rules governing promotional giveaways. You can find the rules at the following links:
Generally speaking, the prize for a contest or sweepstakes should be larger than a trade show giveaway since there will only be a limited number of winners (or maybe even one!). Here are some prize giveaway ideas for contests and sweepstakes:
Boxanne wireless speaker
This lightweight, portable custom Bluetooth speaker fits in your pocket—but don't be fooled by its tiny size because the built-in subwoofer means that its sound is plenty big. The looping strap easily attaches to a bike, backpack or bag for added portability. The speaker features Bluetooth capability up to 30 feet, a built-in microphone for conference calls, on-speaker controls and 4-5 hours of play on a single charge. The speaker offers not one but two surfaces for imprinting: There's a full-color dome on back of the speaker and a full-color digital print on the speaker grill.
Wrapsody wireless headphones
These slick-looking headphones feature a futuristic geometric design, 33 ft. Bluetooth wireless range, 85 percent isolating outside noise reduction, 10+ hours of play on a single charge and stereo sound with omnidirectional full range audio drivers. The headphones also offer multi-function on-ear buttons for answering calls and controlling music and a built-in microphone for phone calls. And most importantly, the flat side of the headphone drivers offers a large imprint area to show off your brand's logo and imagery. These custom headphones come gift boxed with a soft carrying bag, 3.5mm aux. headphone jack cord and micro USB cable for a truly classy giveaway.
Bluetooth® Knit Beanie
This unique beanie is guaranteed to stand out among the crowd of giveaways. Sure to be appreciated by anyone who lives in a cold climate, the beanie keeps your head and ears warm while you listen to music on the built-in rechargeable wireless earphones. The earphones offer a built-in microphone and LED indicator and can be removed from the beanie before hand-washing it. The ribbed beanie can be embroidered with the logo or imagery of your choice, up to 4 inches in diameter.
As long as you do your research and plan ahead, you'll pull off a successful prize giveaway. If you're not sure which item to offer, you can always run your prize giveaway ideas by your followers and ask them to vote in a poll on which one you should pick. Good luck on your next prize giveaway! If you have questions about ordering prizes, our customer service team is always happy to help.