While minimalism has been around as an art movement since the 1960s and '70s, in the past decade or so, it's really taken off as an interior design trend for homes and apartments as well as office spaces and trade show booths. But this seemingly simple style is surprisingly hard to pull off, and creating a minimalist design that doesn't feel austere or cold can be tough. If you'd like to create a simple booth design idea for your next trade show, follow these seven minimalist principles to create an inviting yet uncomplicated space.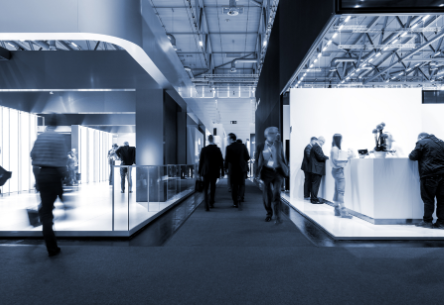 Use black and white as building blocks.
Minimalist interior design relies on various shades of white and black to create a unifying color palette that blends together well rather than distracting visitors. Usually white or cream is the base shade, since lighter colors make small spaces appear larger. If black is too harsh, varying shades of gray can add some darkness to the color palette without being quite so stark. Some minimalist color palettes incorporate various shades of the same color—for example, white, off-white and pale ash wood—for a more visually unifying appearance.
Choose an accent color carefully.
Most minimalistic spaces use a maximum of three colors, with a maximum of one accent color. For example, the color palette may use white and gray as its base shades, with selective elements of dandelion yellow or tomato red for contrast. Since you'll only be using one accent color, choose it wisely and use it for the booth elements that you want to draw the most attention (perhaps your company or product logo?).
Leave plenty of open space.
When you have a small space, it can be tempting to cram every inch possible full of furniture and signage. But minimalism embraces the lack of objects, only incorporating what's absolutely necessary to the design. When brainstorming your simple booth design idea, be honest about what objects you actually need and what can be eliminated from the design.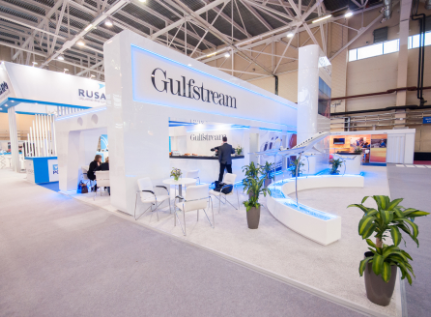 Pick the right materials.
Despite the limited palette, minimalism employs a lot of different materials to add texture and visualize interest beyond color. Popular materials include chrome, stainless steel, glass, plastic, ceramics, artificial and natural stone and textured wood, so look out for these as you select lighting and furniture for your booth. And if you can incorporate any of these textures in your promotional giveaways, that's an added bonus. (You might consider bluetooth speakers or stainless steel tumblers, for example.)
Provide lots of light.
Large floor-to-ceiling windows are a hallmark of minimalist design. While you probably won't have control over the windows in the trade show venue, you can create the appearance of lots of natural light by strategically choosing your lighting fixtures. However, floor lamps take up precious floor space, so explore wall-mounted options—and it's even better if you can incorporate recessed lighting to hide the light fixtures or otherwise disguise them as another design element.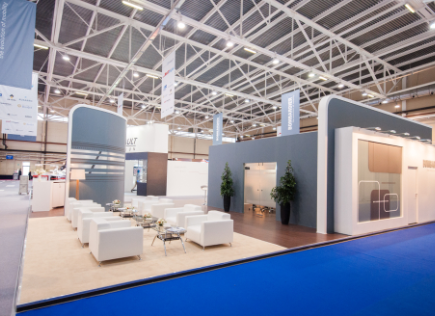 Select geometric furniture.
For both furniture and other design elements, minimalism relies on geometric shapes of all kinds: squares, rectangles, circles, ovals, triangles and, of course, the good old-fashioned line. These simple shapes complement the color palette and create a visually harmonious space that's easy for your eye to comprehend. However, all these lines don't necessarily equate to a harsh design, as many of the corners are rounded for softness and comfort, so you don't have to worry about running into them.
Declutter your booth.
The philosophy underlying minimalism focuses on removing excesses from your life, whether it's physical objects or intangible commitments. As much as you can, eliminate unnecessary clutter from your booth throughout the design. For important items, such as your booth hosts' bags or extra giveaways, seek out smart storage solutions, such as a cubed ottoman that doubles as a crate or a table with a hidden compartment.
Pulling off a truly well-balanced minimalist design that both looks and functions great isn't as simple as it looks. But as they say, if it was easy, everyone would do it, and a well-done simple booth design idea is sure to stand out on the trade show floor and attract visitors to your booth. If you're exploring simple trade show booth ideas, follow these seven principles to create the best booth possible.