by Chrissy Petrone, Content Marketing Specialist
Can you believe we are already in the midst of the holiday season? Pumpkin season is here, Thanksgiving is coming, and before we know it we will be ringing in the New Year. While you probably know that promotional products are great for marketing initiatives, trade shows, and client gifts, you may not think about promotional products as employee holiday gifts. The holiday season is all about gratitude —  your employees have worked so hard this year, and a great way to express your gratitude is to thank them with a custom-branded gift.
Since it is unlikely that all of your employees have the same hobbies and are into the same types of things, it might be hard to narrow down the perfect personalized gift for everyone. Don't worry we've got your back. Here are the top 8 promotional product categories we are excited about for the 2023 holiday season:
#1 Home & Leisure
Fall is absolutely my favorite time of year. Autumn is officially here, and one of my favorite things about the season is spending quality time with family and friends. Whether I am hosting a Friendsgiving or sitting by the fire and playing cards with friends and family, aesthetics are important to me. I don't know if I've caught the "Fixer Upper" bug or if it's simply my personal preference, but when I'm entertaining I like for my home to feel and look polished, warm, and inviting.
Copper is in this season, and one of my favorite custom entertaining pieces we offer for entertaining is our Moscow Mule Mug 4-in-1 Gift Set. This four-piece branded gift set has all of the essentials you need to make an excellent Moscow mule. Not only is this custom gift modern and high quality, it's also very thoughtful. Most likely, your employees will be using this while mixing a drink and relaxing at home. Even though they are away from the office, this gift will enhance their downtime and remind them that they have a great job to be thankful for.
Another favorite holiday gift of mine is the Field & Co. Sherpa Blanket. I love this customizable blanket because it is soft, trendy, and versatile. If you work in an office, then you know that sometimes it is boiling hot, and other times it's freezing cold. This gift is great because your employees can keep it at their desk or use it to cozy up around a bonfire. Either way, you're keeping them warm and showing how much you appreciate them.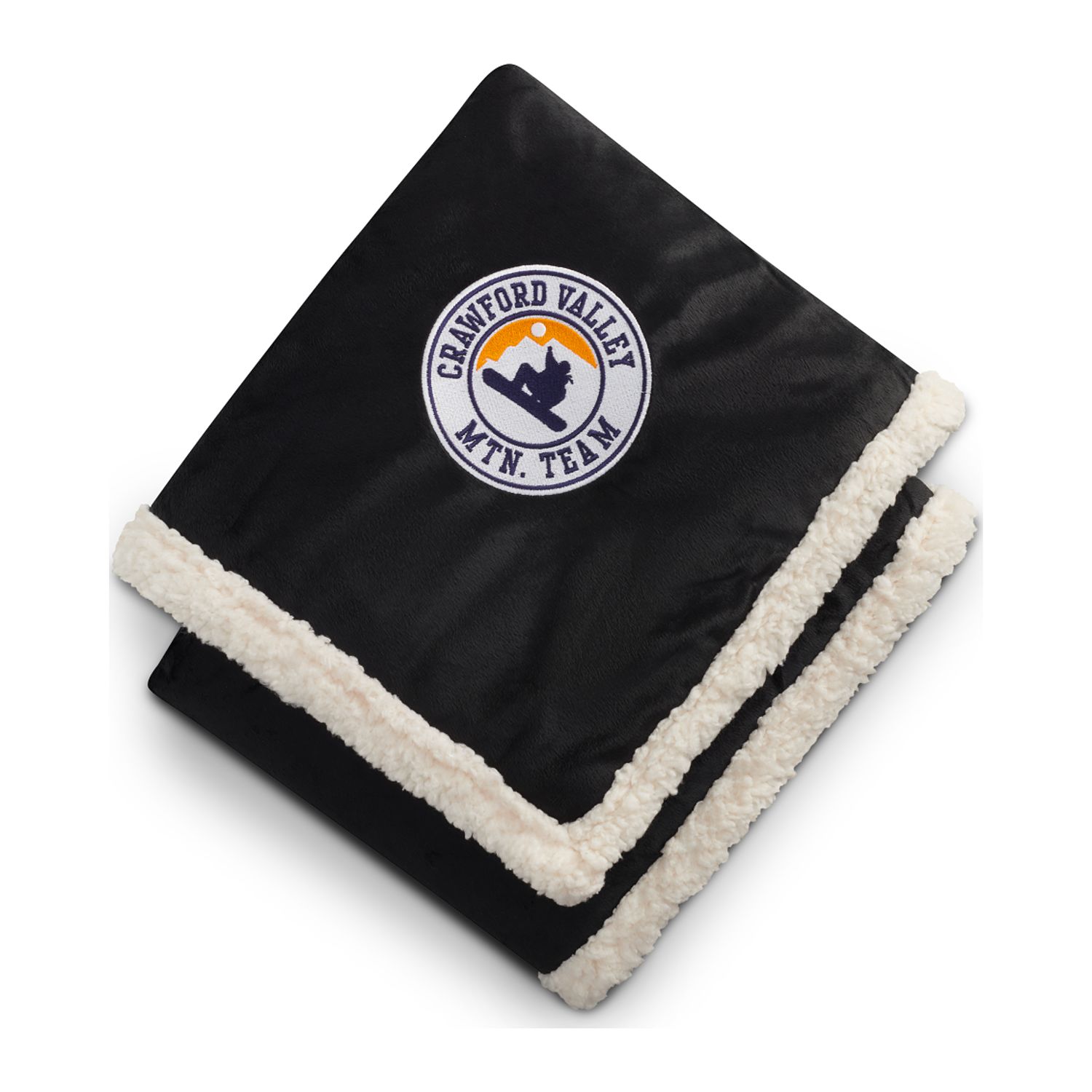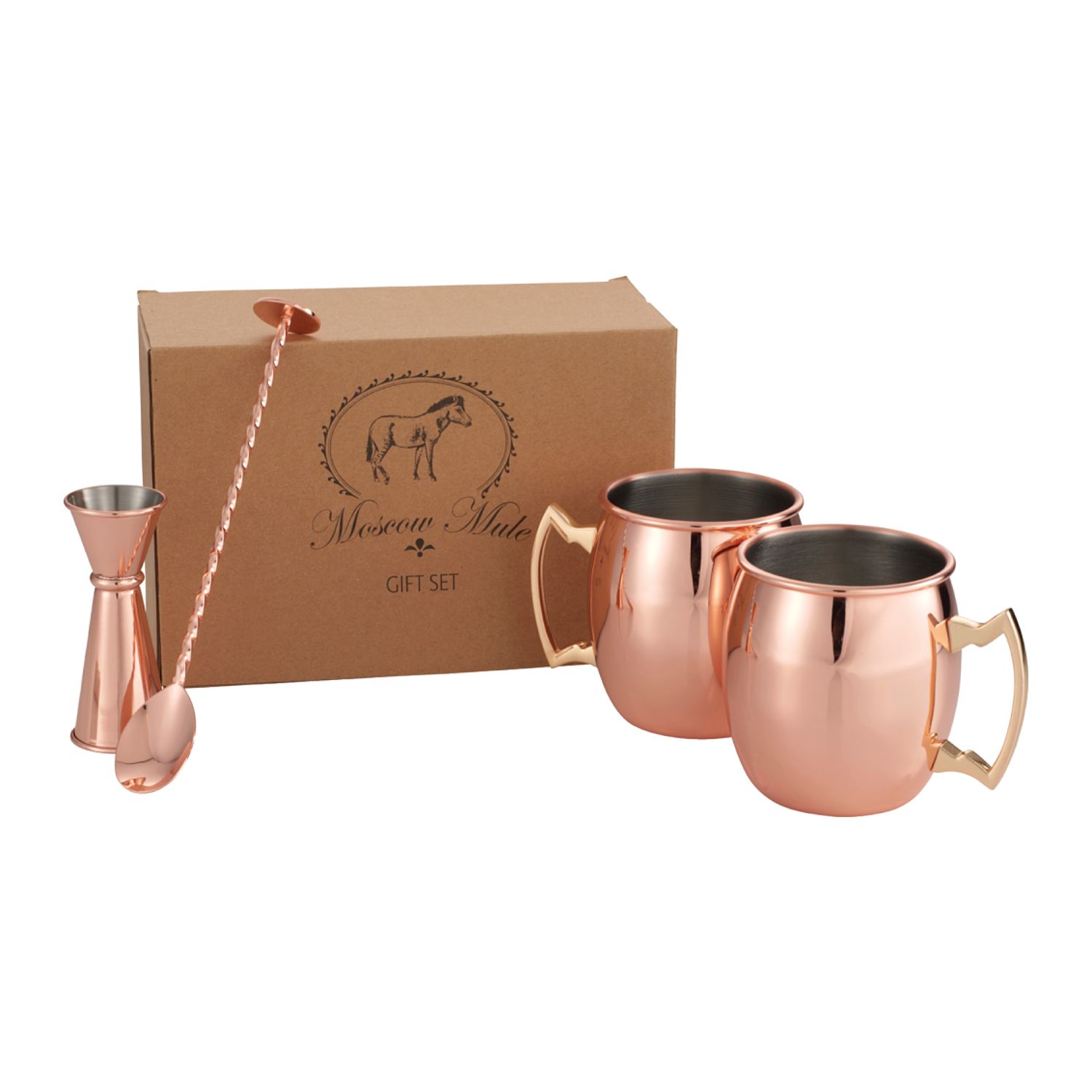 #2 Custom Drinkware
Drinkware is one of the most popular promotional product categories, and we have some fantastic options for this holiday season. I suffer from a *minor* caffeine addiction, so I love a custom tumbler that I can use for hot coffee in the morning and that I can wash out and use for iced coffee throughout the day.
It's pretty incredible that the branded Himalayan tumbler can keep beverages hot or cold for up to 6 hours. Some days I am so busy that I find myself sitting at my desk from the moment I get here till I get up to take my lunch break. When you are in the middle of a project, the last thing you want is to go for a sip of your delicious hot java only to find that it's turned lukewarm. 
The Himalayan tumbler is such a life-saver for busy workdays and the 20 oz. Himalayan Tumbler is my new favorite design. This custom-branded tumbler is excellent for cold mornings on the soccer field or hot summer days at the park. It will help keep your employees fueled up and hydrated for any kind of day their week might throw at them.
I also have to mention the Intrepid Stainless Steel Tumbler - 40 oz. This promotional tumbler is a big hit here at Pinnacle and has become a coveted item around the office. Everyone loves this thing, and it's no surprise. It holds up to 40 oz of liquid, can be used year-round in all seasons and for various occasions, and is just plain cool looking. 
It also has a double-wall construction, a screw-on lid with a straw, and is BPA-free. Plus, it comes in trendy matte colors. If you are looking to "wow" your employees with a unique gift this year, this is your show-stopper. It's large enough to fill with smaller gifts and cool enough to gift on its own. Either way, your employees will be impressed!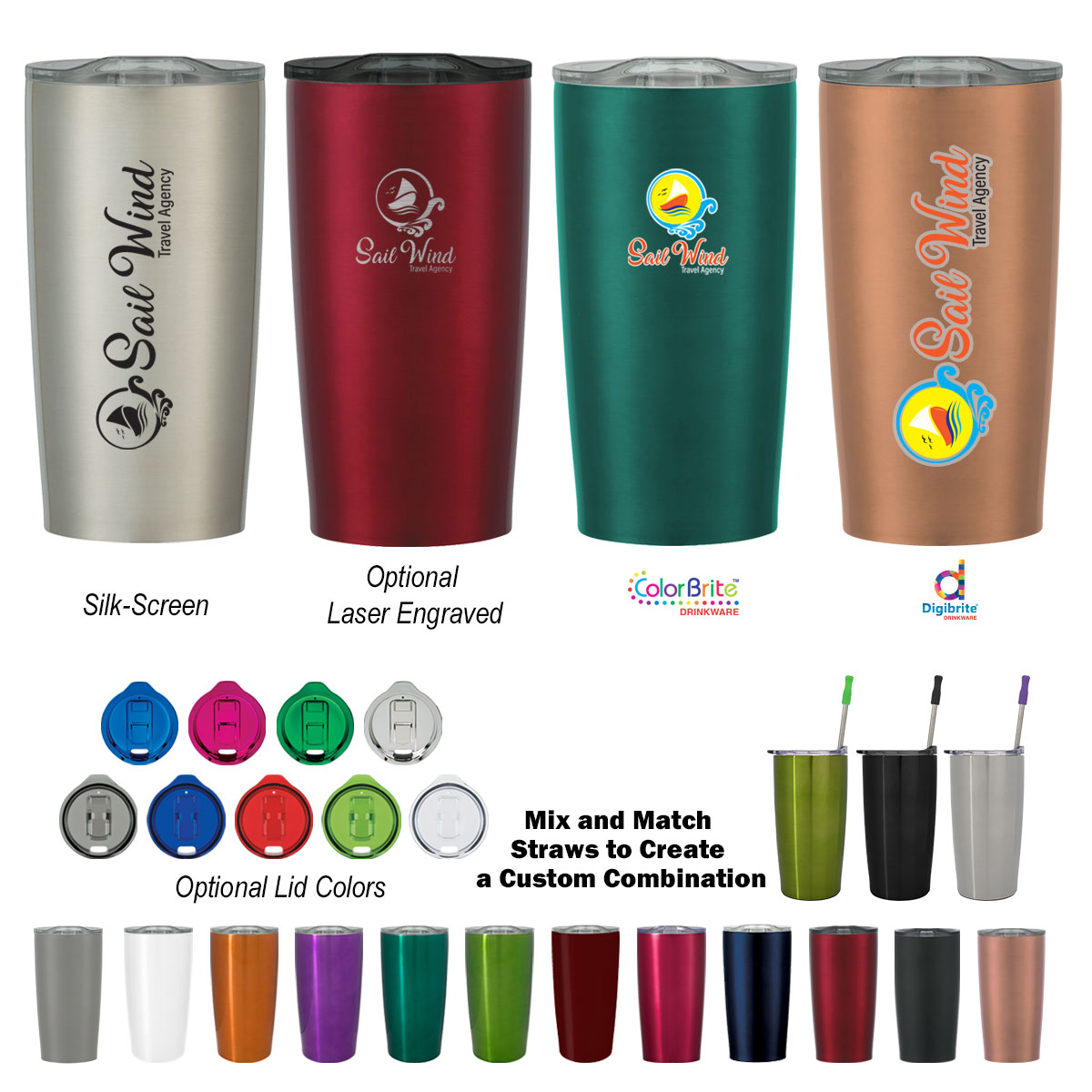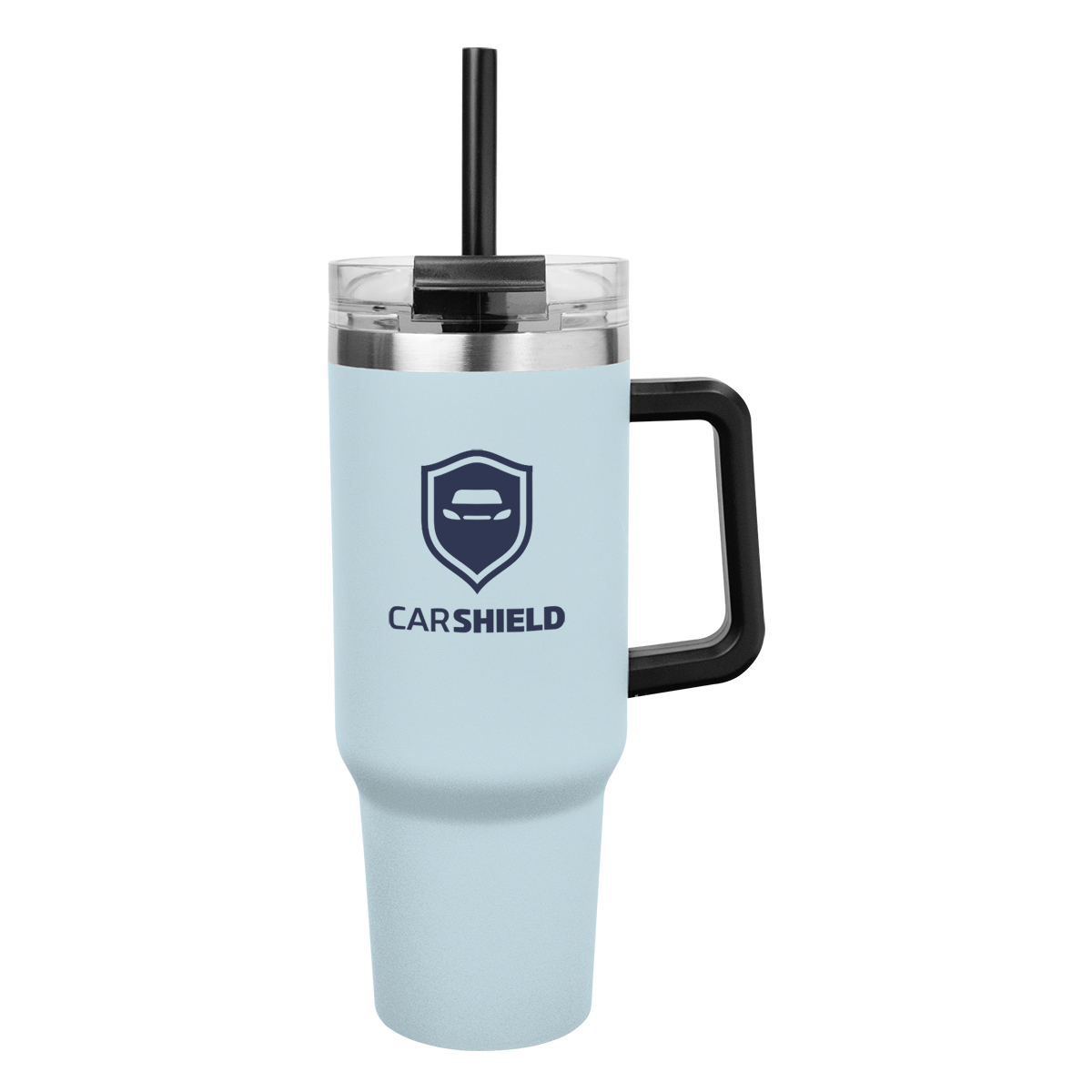 #3 Branded Apparel
I love sporting my company's custom swag, especially on casual Fridays. I love where I work, and I feel proud to wear my company's branded attire to work and also out and about. Wearables are such an excellent and practical holiday gift for your employees. It's pretty impressive when you realize how many different types of apparel and wearables you can brand with your company's logo.
One gift idea that has particularly caught my attention this year is  The North Face® Pom Beanie. Everyone makes resolutions for the New Year to become a fitter and happier version of themselves. The North Face® Pom Beanie will encourage your employees to get outside and start moving while keeping their heads toasty and warm. 
Another favorite of mine is the Port Authority Women's Interlock Open Cardigan. This is another coveted item around the office and is flattering on all body shapes and sizes. This cardigan is lightweight and has an open front, and the back seaming details at the waist give it a sophisticated and timeless look. What I really love about it is that it can be dressed up or down. I can wear this with workout clothes, while running errands, around the office, and dress it up for meetings with my clients. This custom piece pairs well with so many different styles and occasions and is a classy way to promote your brand. The Port Authority Interlock Full-Zip is our men's compatible piece.
Branded apparel is one of our top-selling product categories, and we are adding more unique styles all of the time. From short and long-sleeved polos, jackets, cardigans, dress shirts, workout attire, winter attire, or even fashionable beanies, you will be able to find the perfect gift for your employees this holiday season.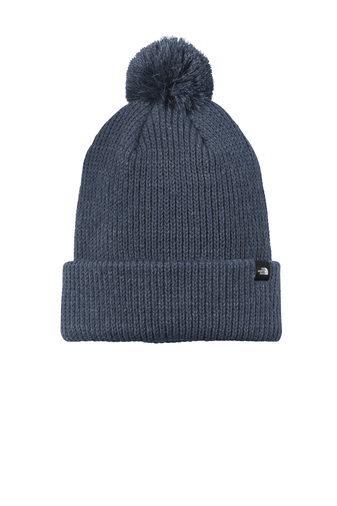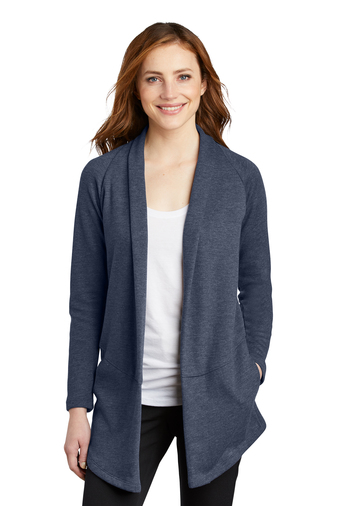 #4 Branded Food Gifts
Charcuterie boards are all the rage this year. Whether you are hosting a holiday event or bringing food to a potluck, the Charcuterie Favorites Board with Meat and Cheese Set is the perfect item for the holidays and year-round. This comes with dry cured salami, assorted cheeses, cheese knife, crackers, and gourmet mustard. All are packaged with a beautifully engraved bamboo cutting board. Delicious food and high-quality cutting board and knife make for an excellent and thoughtful custom holiday gift for your employees.
Food gift sets are always a popular choice, and we have the perfect gift to fit this trend. Our Holiday Treats Tower is such a cool and "out of the box" (pun intended) way to show employee recognition this year. Packed with a variety of gourmet goodies, including chocolate-covered pretzels, caramel popcorn, and mixed nuts, this delightful tower is designed to satisfy every palate. The mix of sweet and savory snacks caters to different tastes, ensuring there's something for everyone on your team. The Holiday Treats Tower is an ideal way to strengthen employee morale, boost holiday cheer, and express your sincere thanks for their contributions, making their holiday season a little brighter. 
It is difficult to choose just a few food gifts for this season, but we have so many different offerings to meet your needs this season that you will have no issue picking something tasty, classic, and memorable.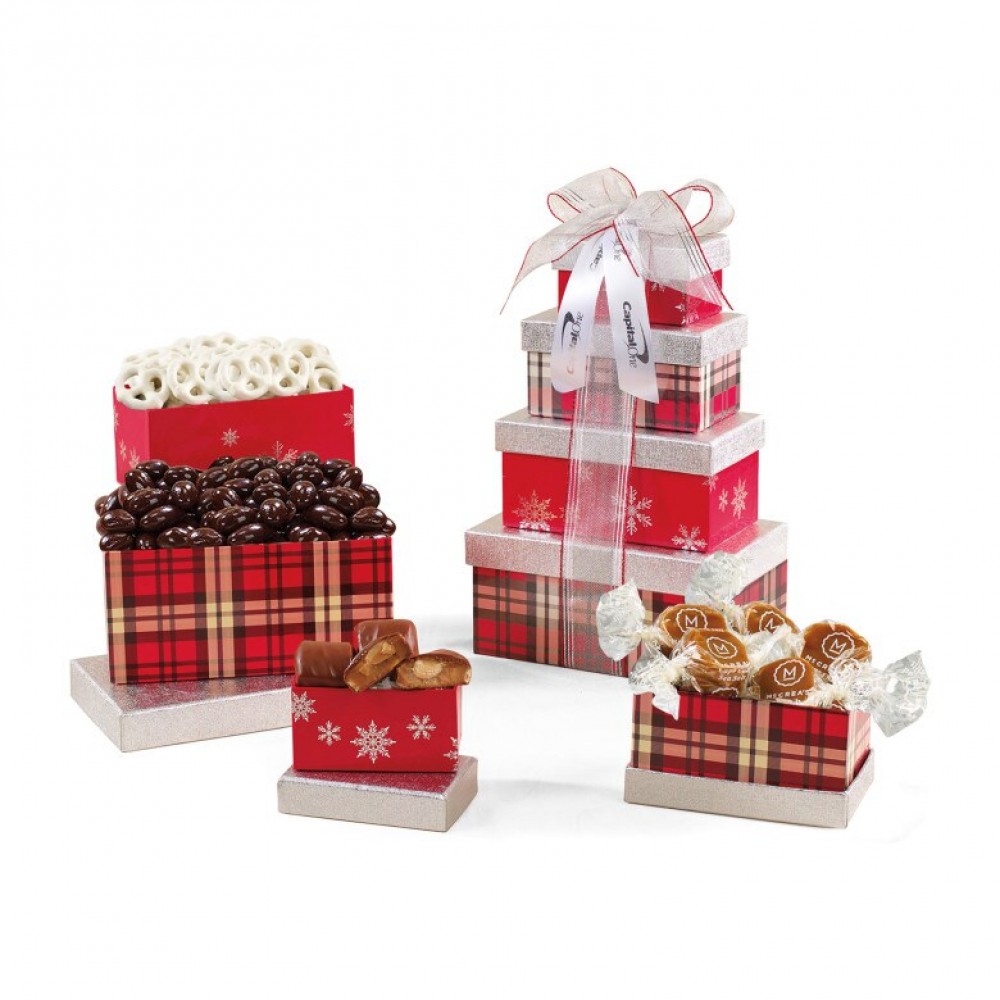 #5 Promotional Outdoor Items & Safety Products
We are so busy these days, and the holiday season is definitely the busiest time of year. Between working 40+ hours a week, trying to prep healthy meals, exercising, and sleeping eight hours a night the last thing most working professionals think about is their car battery. Most people are back to commuting to work daily and put a lot of wear and tear on their vehicles. Being prepared for the worst is important, and safety gifts are a great way to make sure your employees are safe on the road and able to get to work on time with less stress. The Highway Companion Gift Set is the perfect gift for your commuter employees.
This thoughtfully curated set includes a sleek, black leatherette pouch containing essential tools every traveler needs. The set features a power bank to keep their devices charged on the go, a multi-functional flashlight, and a compact yet mighty tire pressure gauge. Practical and stylish, this gift embodies your appreciation for your team's dedication. Living in Atlanta, commuting takes up a good portion of my day. On a good day, I can make it to work in 45 minutes, and I would love to have a kit like this in my car…just in case.
It's almost impossible to keep weight off during the holidays. From work parties to family gatherings, food tends to be the centerpiece for all occasions. I am trying to exercise more and am really watching my diet. I want to be healthy, and there is a strong chance that your employees will make some sort of health-conscious resolution for the new year as well. 
The Adventure Duffle Bag is an excellent investment for your health. It's perfect for hiking but can also be used to pack gym clothes, healthy snacks, and whatever else your employees will need to tackle their 2024 health goals. Corporate health and wellness initiatives are important for companies to focus on, and this is a great way to encourage your employees toward a healthier lifestyle.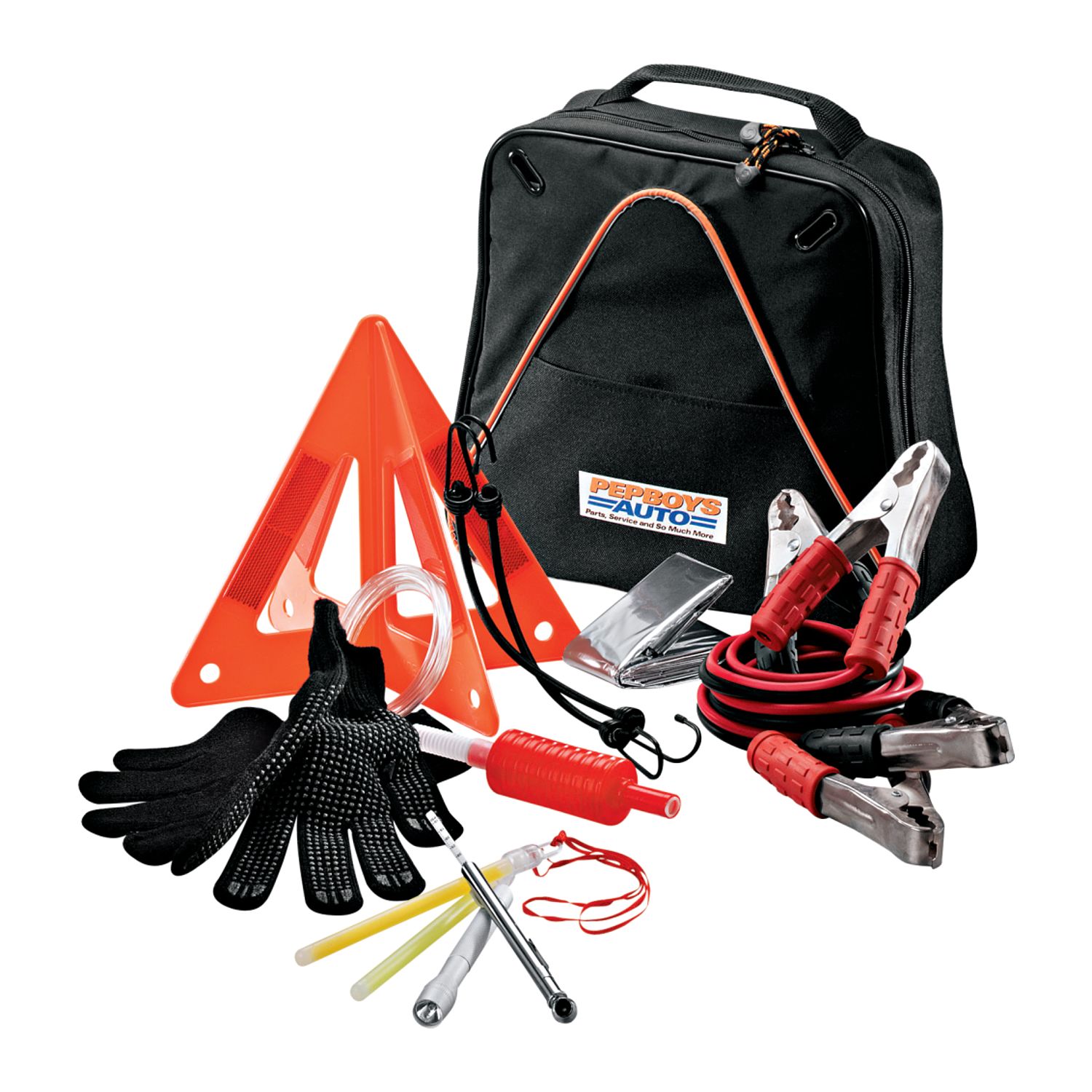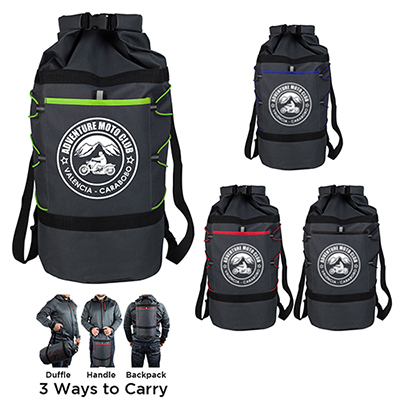 #6 Branded Tech
Technology is such an exciting and universal promotional product category. Every one of your employees uses some sort of technology every single day. From Bluetooth wireless speakers, power bank and jolt chargers, USB drives, headphones, wireless Bluetooth earbuds, and activity monitors, there are so many unique and modern gift options in this product category.
I am definitely a technology junkie, so this is the hardest category for me to narrow down, but I have to mention the Essos True Wireless Auto Pair Earbuds w/ Case. These sleek and high-quality earbuds are more than just a gift; they're a gesture of appreciation. Featuring auto-pair technology and a secure-fit design, they provide premium sound quality while ensuring comfort during long listening sessions. 
The compact charging case ensures they're always ready to go, perfect for on-the-go employees. These are excellent for commuting, traveling, exercising, and whatever else your employees are up to. Many of the newer mobile devices don't have a headphone jack, so wireless headphones are the way to go, making these headphones convenient and forward-thinking.
The Sleek Aluminum 4,000 mAh Power Bank is the ideal holiday gift to light up your employees' festive season. This stylish and functional power bank is designed to keep your team connected and powered up throughout their busy days. Its 4,000 mAh capacity ensures that they can charge their devices on the go, from smartphones to tablets. The sleek aluminum finish and compact size make it a chic and convenient accessory, while the customizable branding options add a personalized touch to your holiday gifting. By choosing this gift, you're demonstrating your appreciation for your employees' dedication and offering them a practical tool to stay charged and productive. Show your gratitude and give the gift of power and connectivity this holiday season.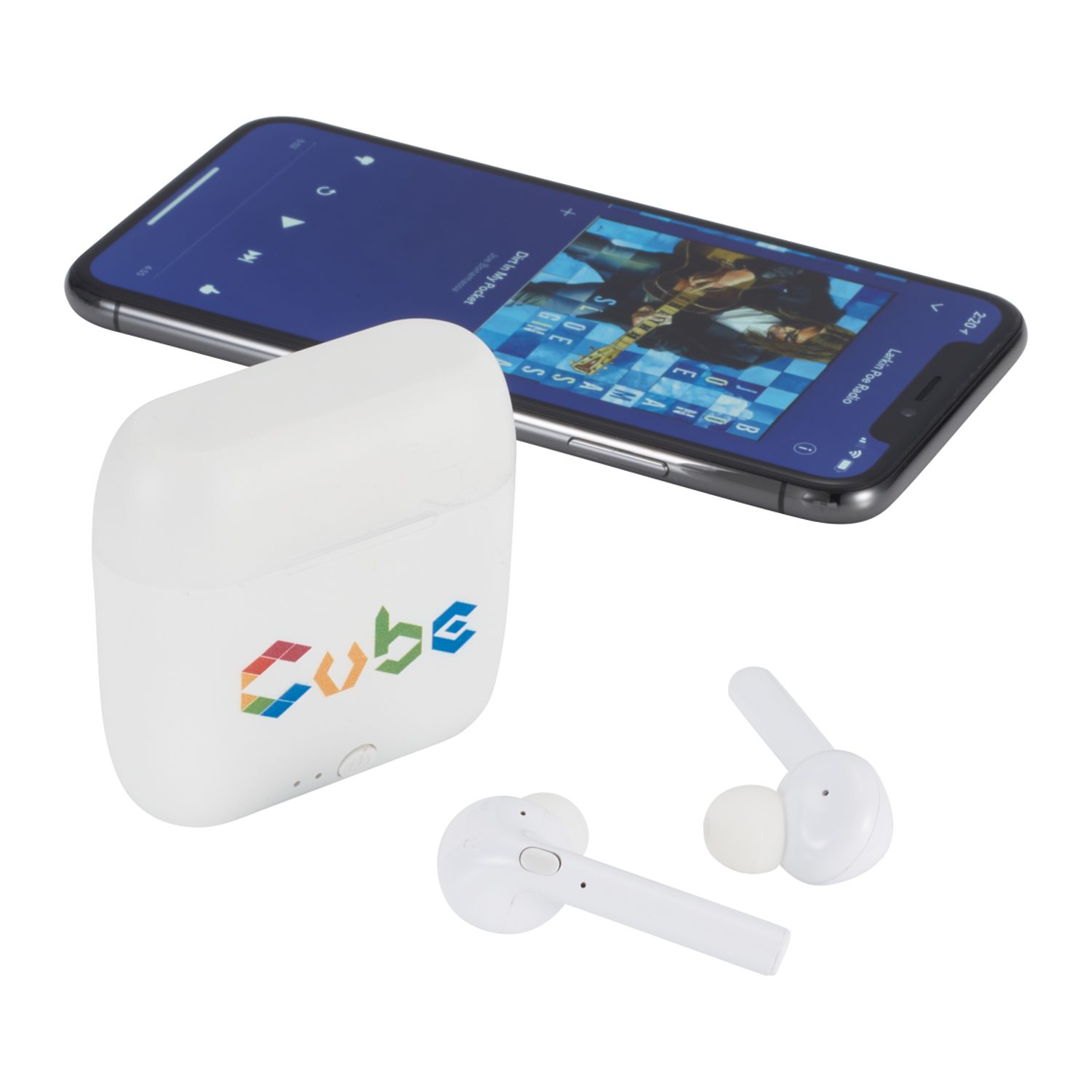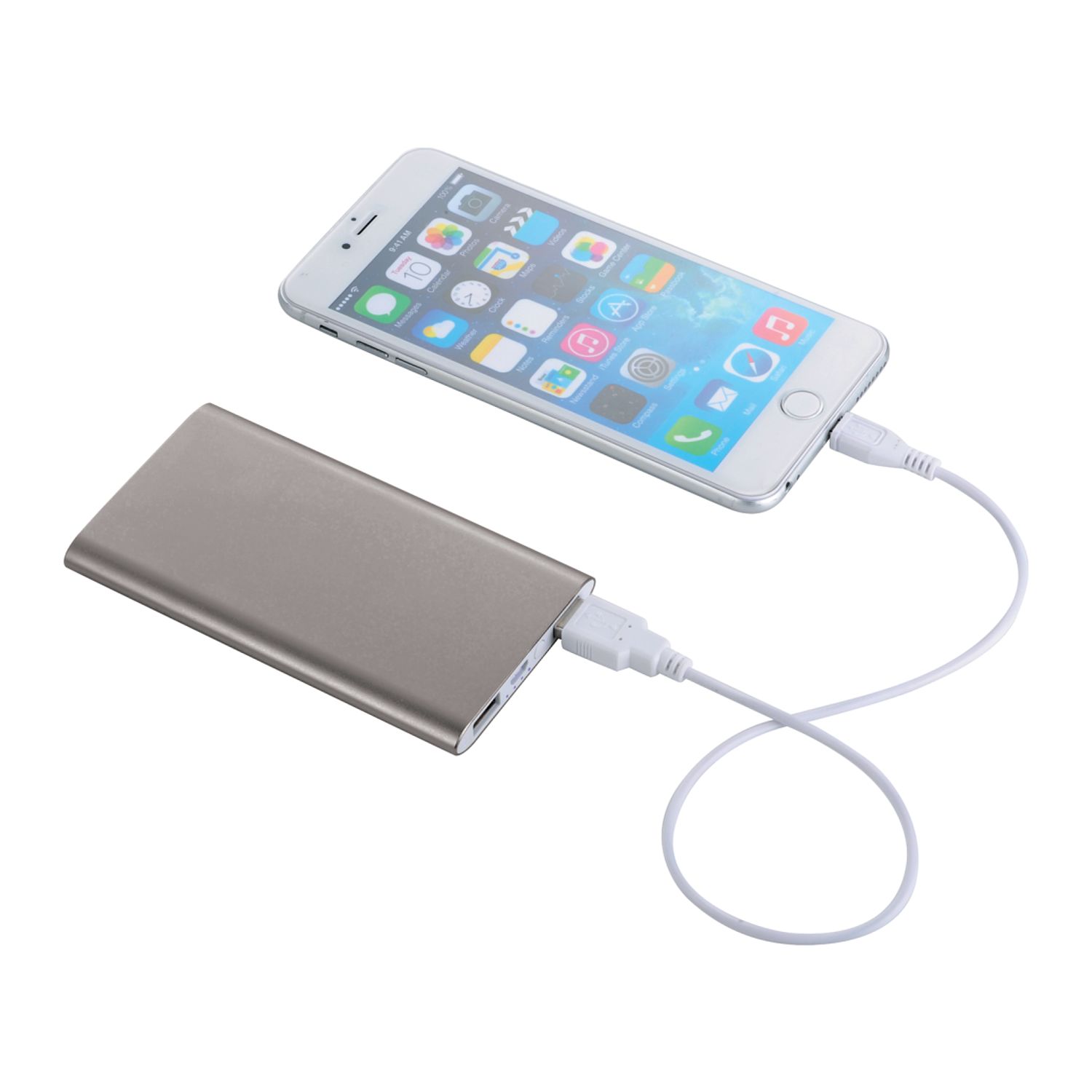 #7 Custom Office Items
Personalized office products are practical and thoughtful. I know for me personally I love my company-branded notebook. My team has weekly meetings, and our sales department tends to have many meetings at various times during the week. The Manhattan Writing Pad is a great choice if you are considering a nice notebook for your employee gift. It is made with genuine leather, which gives it a sleek and professional appearance. It also features an interior organizer with business card pockets and a document folder. This notebook can be used around the office or on-the-go for client meetings.
I love my notebook for organization, but there are so many other unique office categories for employee gifts. The Truman Wireless Charging Accessory Tray is by far my favorite office holiday gift for the season.
This multifunctional and stylish desk accessory acts as an organizational hub for personal items, and it includes a wireless charging pad, ensuring devices stay powered throughout the workday. I think this item is so cool and so different. Your employees will absolutely love feeling well-equipped to tackle their daily tasks, making it the perfect holiday token for a productive and connected work environment.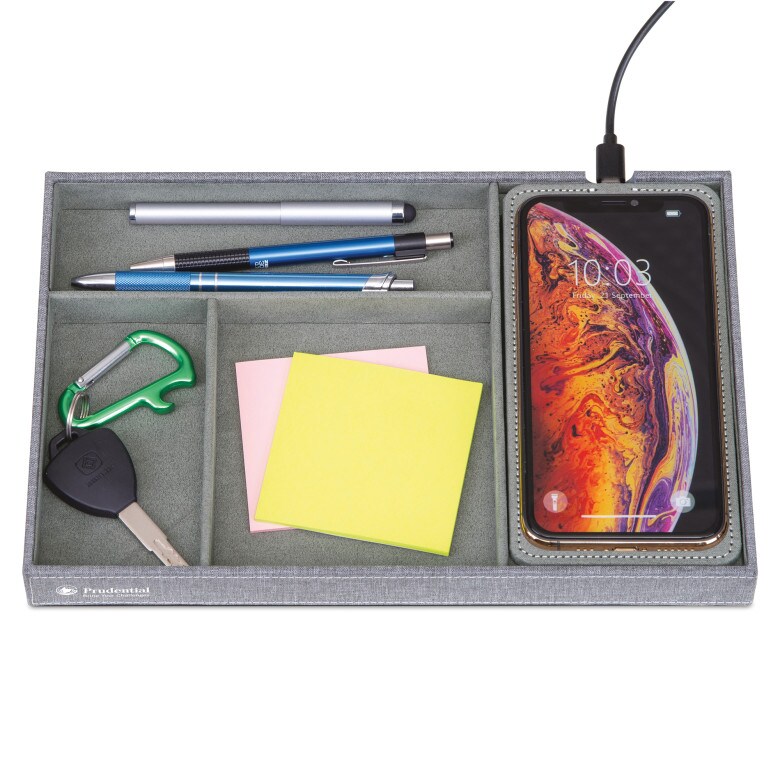 #8 Branded Sustainable Gifts
Sustainability has been a big topic this year and offers another unique promotional product category that you may have not considered for holiday gifts. Whether your employees are traveling for business or pleasure, the Aft Recycled PET 21" Duffel is a fantastic holiday gift.
Crafted from recycled plastic bottles, this eco-friendly duffel not only showcases your commitment to the environment but also offers ample storage space for all your employees' travel or gym essentials. Its versatile design complete with multiple zippered pockets, an adjustable shoulder strap, and durable handles, ensures a seamless transition from work to play. This duffel is a very high-quality and thoughtful gift for you to give your employees this holiday season.
After a busy work year, relaxation is on everyone's mind at the end of Q4. Our MiiR® Camp Cup Gift Set is a fantastic employee gift to encourage healthy work/life balance. This gift set includes a classic campfire-style mug and a high-quality, dual-layered vacuum-insulated tumbler. Whether your employees are sipping their morning coffee or a refreshing beverage on a camping trip or at their desk, this gift set keeps their drinks at the ideal temperature. It's a versatile and eco-friendly option that encourages your team to reduce waste by using reusable containers. Your team has worked so hard this year, and they deserve to relax and feel appreciated for all of their efforts.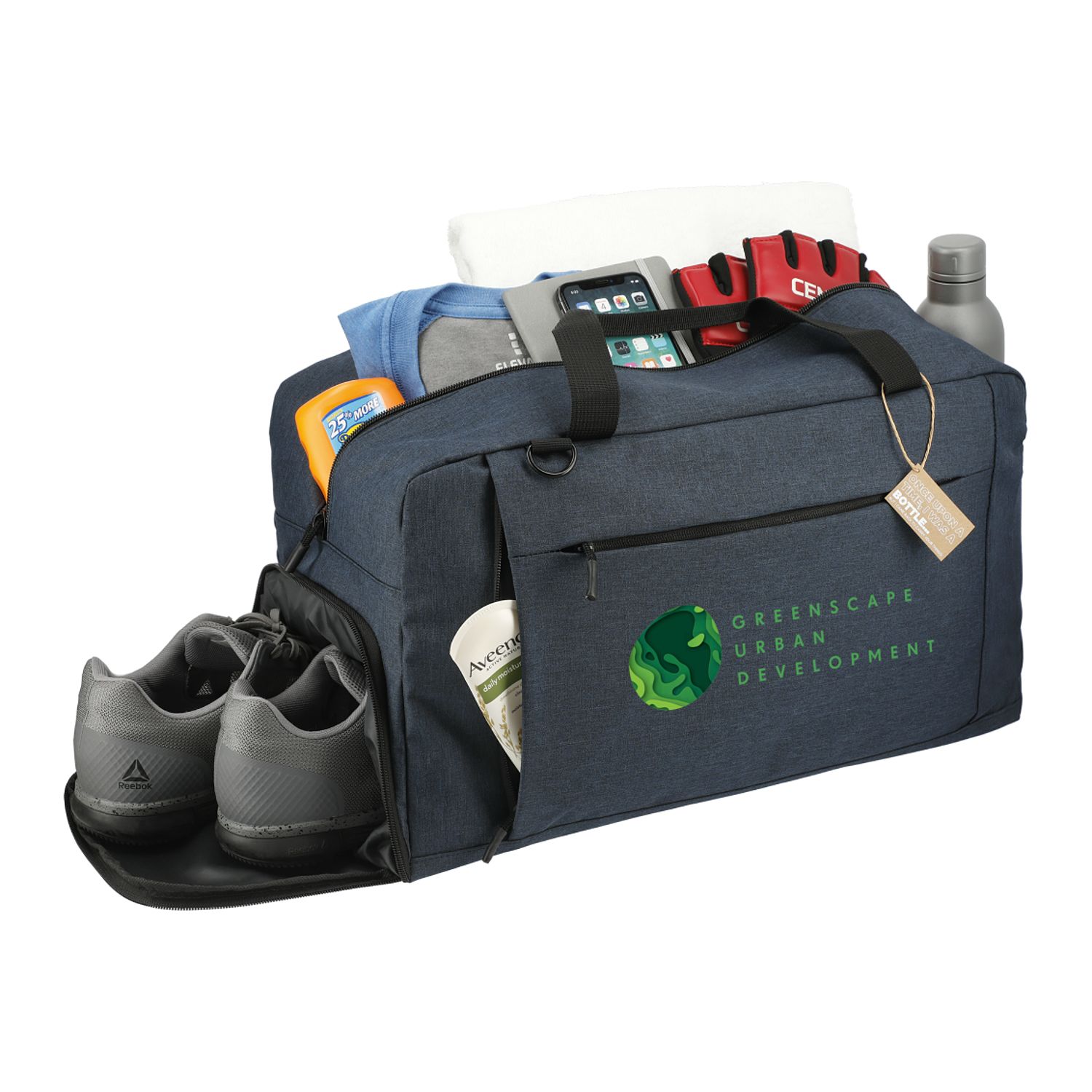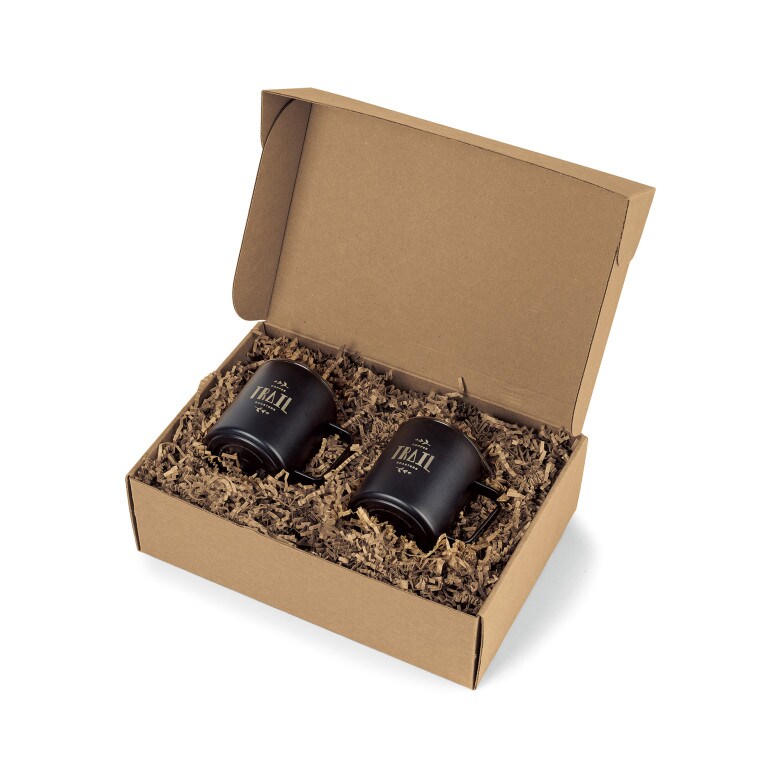 Show your employees how much you care about them this holiday season by giving them a unique and memorable holiday gift. Home & Leisure, Drinkware, Apparel, Food Gifts, Outdoor/Safety, Technology, Office, and Sustainability are our top promotional product categories for 2023 holiday gifts. Whether you are wanting your employees to relax, pursue a healthy lifestyle, or simply enjoy a delicious treat, we can help you show your gratitude and create a lasting impression to show your appreciation. If you'd like more great gift ideas, check out our Holiday Hub — a great resource for expanded ideas in these product areas!
I hope this has given you some great ideas for your 2023 employee gifts.
From all of us at Pinnacle Promotions, we wish you a safe and happy holiday!