Expanding your promotional marketing efforts doesn't have to be hard. In this buying guide, we will fill you in on how to pick the branded water bottle that will fit your marketing efforts, your brand and your budget.
Branded water bottles are a useful marketing tool for businesses and organizations. They can be imprinted with your company logo or message and given out as promotional items at events, trade shows, or as part of a marketing campaign.
One of the best parts of customized water bottles is that they are functional! So you can expect your employees, customers and partners to carry them as they tackle life's daily challenges.
So how can you get started on choosing and customizing branded water bottles? That's where Pinnacle is here to help. This buying guide will assist you in finding the right custom water bottles to fit your brand!
Benefits of Customized Water Bottles
You may be thinking to yourself "why should I choose custom water bottles as a brand strategy?" — a valid question. According to the PPAI Research 2019 Consumer Study, eight out of ten people like getting promotional products. And seven out of ten wish they received promotional products more often.
And while that study may just look at promotional products overall, a 2022 ASI Ad Impressions Study found that drinkware was the number-one most influential promotional category in the Southeast, Midwest and Pacific regions of the United States.
Water bottles and other drinkware are starting to become a status symbol, with many of the top retail brands such as YETI and S'Well embracing the promotional marketing potential and selling bulk custom water bottles — so you can add your logo to top-name brands to help boost your brand reputation.
Here are some more benefits to using promotional water bottles as part of a marketing strategy:
#1 They are practical
Most people know the benefits of staying hydrated, but many people still struggle with drinking enough water. This means branded water bottles are something that people use on a daily basis, so they are likely to get a lot of use and visibility.
#2 They are portable
Customized water bottles can be easily carried around and people will take them with them wherever they go. This can help to increase the reach of your marketing message.
#3 They are customizable
Branded water bottles can be customized with a wide range of colors, designs and messages. So you can create a look that matches your brand and promotes your business.
#4 They are cost-effective
One of the best benefits of custom water bottles is that these items are relatively inexpensive marketing tools, especially when you consider the potential reach and impact of your message.
---
At Pinnacle Promotions, we understand that big promotional projects need an extra hand. Reach out to us at 877.300.2007 and let us help you with your corporate gifts, kits or events with the best branded water bottles to make the right impression™.
---
Choosing the Right Custom Water Bottle
After looking at the benefits, it's time to choose the right branded water bottle for your organization. That means first assessing your "why" behind purchasing customized water bottles.
One example of when it might be appropriate to give out branded water bottles is at a trade show or conference. Attending these events can be a great way for businesses to network and promote their products or services to a large audience.
By giving out custom water bottles at a trade show or conference, businesses can help attendees stay hydrated while also promoting their brand. Attendees are likely to use water bottles throughout the event, which can help to increase the visibility of the company's message.
In addition to giving out the water bottles at the event itself, businesses could also consider sending them out in advance as part of a conference or trade show registration package. This can help to generate excitement and anticipation for the event and can also serve as a reminder to attendees to bring water bottles with them to the event.
Six things to remember when buying customized water bottles:
#1 Quality
Choose a reputable brand that is known for producing high-quality, customizable water bottles. You want your branded water bottles to be durable and long-lasting, so they will continue to promote your brand for a long time.
#2 Capacity
Decide how much water you want your water bottles to hold. Options range from small bottles that hold around 12 ounces to large bottles that hold 32 ounces or more. Consider your target audience and the types of activities they will use the water bottles for when making this decision.
# 3 Material
Water bottles can be made from a variety of materials, including plastic, stainless steel, aluminum and glass. Plastic bottles are generally the most affordable option, but they may not be as durable as other materials. Stainless steel and aluminum bottles are more expensive, but they are also more durable and can keep drinks colder for longer periods of time.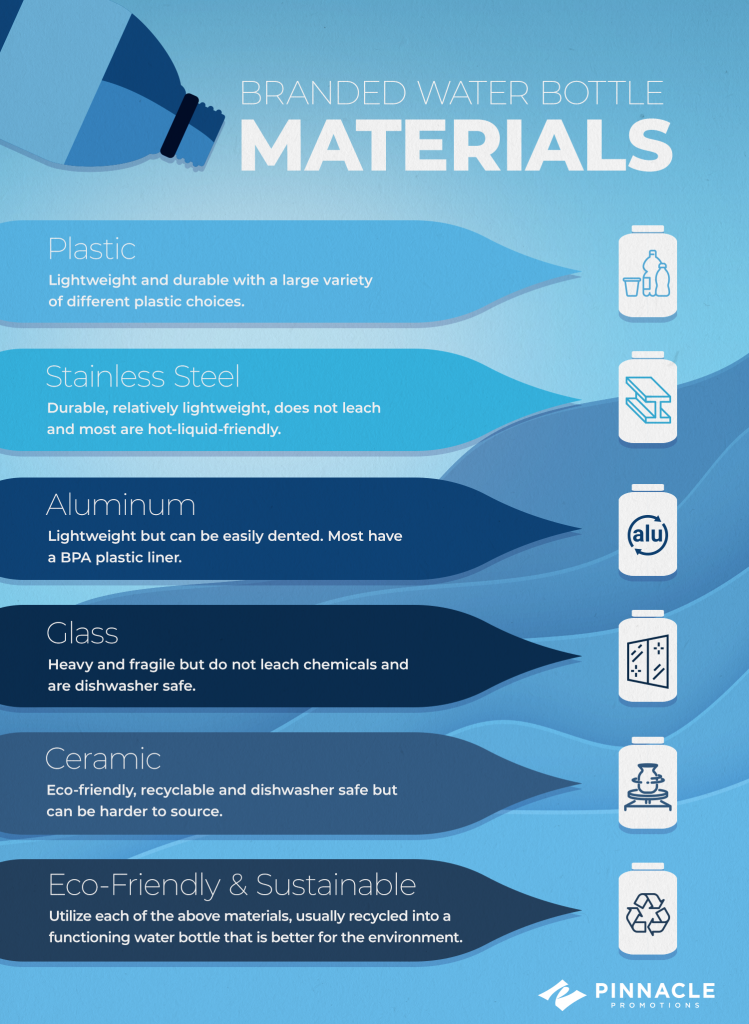 #4 Customization
Consider what type of customization options are available for the water bottles you are considering. Think about how to customize water bottles. Can you choose from a range of colors and designs? Can you add your own logo or message? The more customization options you have, the better you will be able to make the water bottles fit with your brand.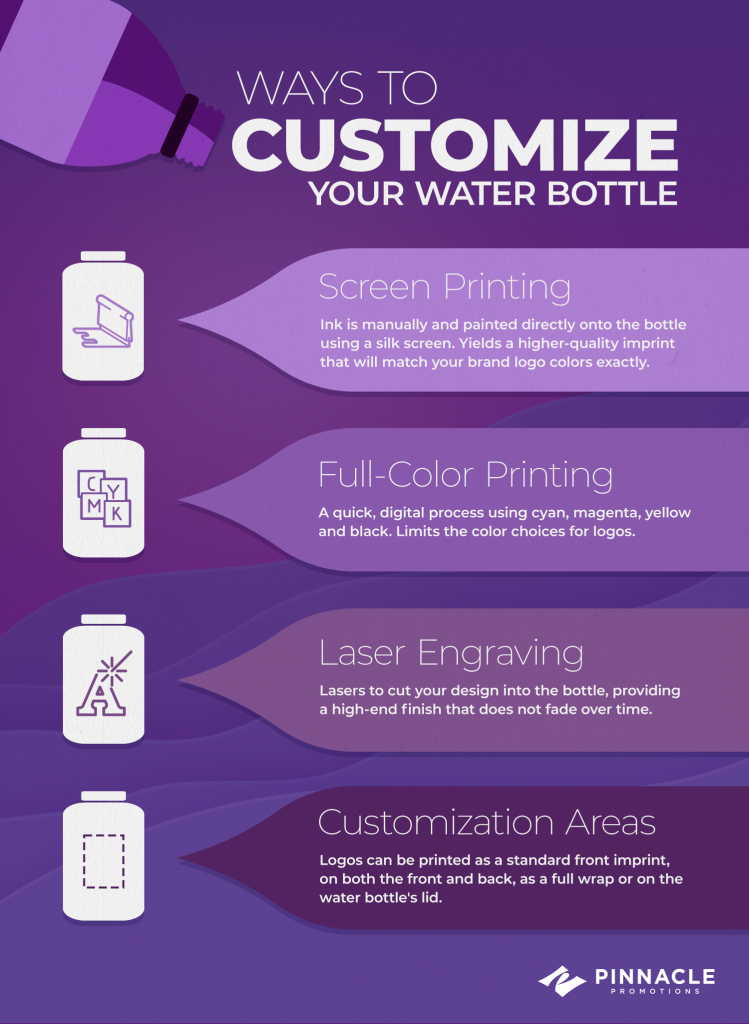 #5 Price
Your budget when choosing branded water bottles will be a very important factor in your overall decision. Remember that you may need to order a large number of custom water bottles, so you'll want to find a balance between cost and quality.
#6 Lead time
It is so crucial to have enough lead time to ensure you get your customized water bottle in time for your upcoming event. You must invest enough time for your water bottles to be produced and shipped. Customized water bottles can take several weeks to produce, so plan accordingly. There are some choices for 24 Hour Rush, but keep in mind that means that the product will be produced 24 hours after you've sent and approved your order.
Let the Promotional Professionals Help
Now you have all the tools you need to find the right branded water bottle that best fits your brand. You can take these tools with you as you begin to review your event, budget and custom water bottles!
Here's our 1-2-3 for choosing branded water bottles:
If you're considering using branded water bottles as part of your marketing strategy, there are a few things to keep in mind:
#1 Choose a high-quality water bottle: You want your custom water bottles to be durable and long-lasting, so choose a brand and model with a good reputation for quality.
#2 Customize the design: Make sure that your branded water bottles reflect your brand and include a clear and visible message or logo.
#3 Consider the timing: Consider when and where you will give out your customized water bottles. For example, if you're attending a trade show, you might want to have them on hand to give out to attendees.
Of course, that doesn't mean you have to tackle your next project alone. At Pinnacle Promotions, we have experienced professionals who can assess your brand needs and offer the right solution for you. We can even put together virtual IdeaKits™ full of custom water bottles or other promotional swag that will make your next promotional project a hit!
Overall, it's important to do your research and choose a reputable supplier that can provide high-quality promotional water bottles at a reasonable price.