by Sarah Gricius, Merchandising Manager
It's casual Friday at the office and you rummage through the closest trying to figure out which company branded t-shirt to wear until you realize your favorite one is in the dirty clothes….UGH! Guess you will have to wear that stiff and scratchy one that is bundled up in a ball at the bottom of the dresser. Don't be that company that gives your employees "those" t-shirts they never want to wear. Give them the option to wear your logo proudly on a comfortable, great-looking t-shirt they will wear over and over again.
On PinnaclePromotions.com, we offer hundreds of different t-shirt styles, so how do you know which is the right one? Well, I've done all the hard work for you...you're welcome. Below I've detailed my Top Five Casual Friday T-Shirt Styles – each one is not only a personal fave of mine, but each style receives outstanding reviews from our customers. Make sure to ask for a sample from our team here at Pinnacle so you can experience them for yourselves.
1. Alternative Unisex Keeper Vintage Jersey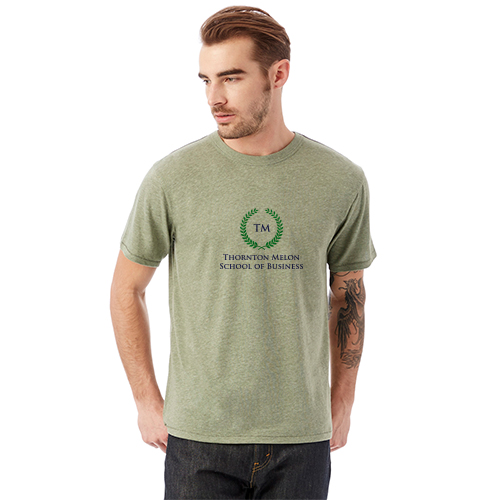 check it out on PinnaclePromotions.com >
This shirt is hands-down my all time favorite and I would buy it in every color! To begin, Alternative is a retail brand known best for comfort, simplicity and its commitment to sustainability. The items produced by Alternative are specially washed which provides a soft texture that pre-shrinks them as well.
The Keeper Vintage Jersey is a 50% Cotton / 50% Polyester blend which offers stretch in the material. Blends are known for versatility and durability, they can maintain shape and the color of the shirt will not fade through several wash cycles. The 4.4 ounce weight of the shirt allows for a lighter and more breathable fit. I like to consider the Vintage Jersey as an "athleisure" piece in my wardrobe. When screenprinting on the shirt, I would suggest using a soft hand ink without a white underlay to match the soft texture of the shirt. This will prevent the logo from being stiff which is never a comfortable feeling.
Colors available: Black, Blue Sky, Maize, Navy, Red, Silver, Smoke Grey, Southern Orange, Vintage Coal, Vintage Iris, Vintage Navy, Vintage Pine, Vintage Royal, Vintage Stone, White
Sizes available: XS - 3XL, Unisex fit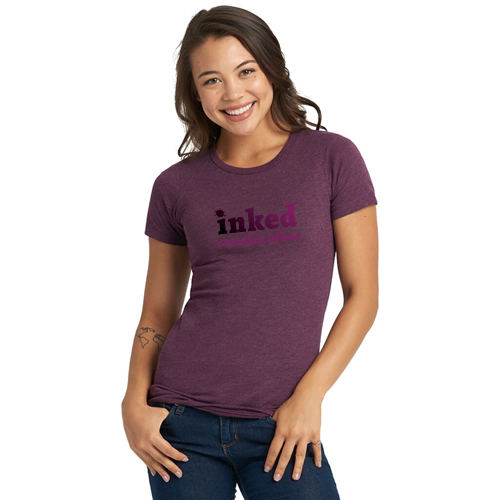 check it out on PinnaclePromotions.com >
I own several of these tees and love to wear them as my Sunday lounge attire. What I refer to as the Champion of Casual but better known as the Next Level CVC, Chief Value Cotton, Crew is a Pinnacle pick throughout the office. The "CVC" in the name refers to a cotton and polyester blend with a heavier percentage of cotton. This tee has a make up of 60% cotton and 40% polyester, making for a great quality and budget-friendly t-shirt – a win all around. Polyester threads are strong and tend to have more stretch and memory compared to a Rayon thread. Rayon threads are relatively weak and often need to be dry cleaned therefore they have the tendency to shrink if not cared for properly.
Almost all colors in the this t-shirt feature a heathered look but it's most prominent in the gray color family. Another great feature is the tear-away customizable label so you can really brand every inch of the shirt. Print on the shirt AND the label for ultimate customization. The shirt is only 4.3 oz., so it may feel like a thin material, but from personal experience the quality and print holds up through several wash cycles.
Colors available: Apple Green, Banana Cream, Black, Bondi Blue, Cardinal, Charcoal, Cream, Dark Heather Grey, Espresso, Ice Blue, Indigo, Kelly Green, Light Olive, Midnight Navy, Military Green, Mint, Neon Heather, Neon Yellow, Orange, Purple Rush, Red, Royal, Sand, Silk, Stone Gray, Storm, Tahiti Blue, Turquoise, Warm Gray, White
Sizes available: XS-2XL, also available in Men's style
3. ComfortWash by Hanes 5.5 oz. 100% Ringspun Cotton Garment Dyed T-shirt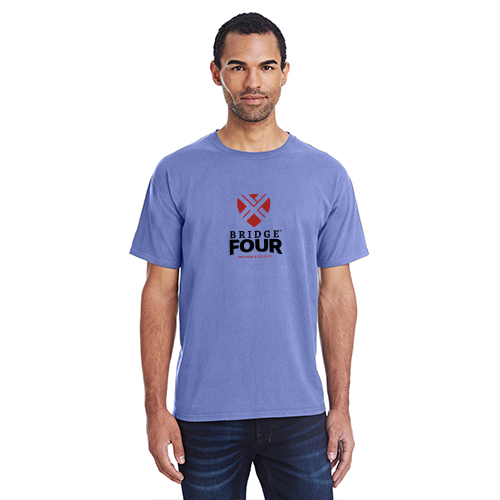 check it out at PinnaclePromotions.com >
My Hanes were all over this shirt when I received my first sample in the Deep Forte (medium purplish-blue) color. I was in complete shock when I first saw the brand of the t-shirt – I usually think of Hanes as the cost-effective brand that is great to buy for value, but the ComfortWash tee from Hanes has the softness of a blanket. It's made with American grown cotton and enzyme washed which gives it the ultra soft feel. With the Hanes ComfortWash, I don't have to sacrifice softness to get the look I love. This tee definitely keeps my skin smiling!
Colors available: Anchor Slate, Black, Concrete, Coral Craze, Crimson Fall, Cypress Green, Deep Forte, Mint, Navy, New Railroad, Purple Pim Raisin, Soothing Blue, Summer Sky, Summer Squash, White
Sizes available: S-3XL
4. Threadfast Apparel Unisex Triblend Short-Sleeve T-shirt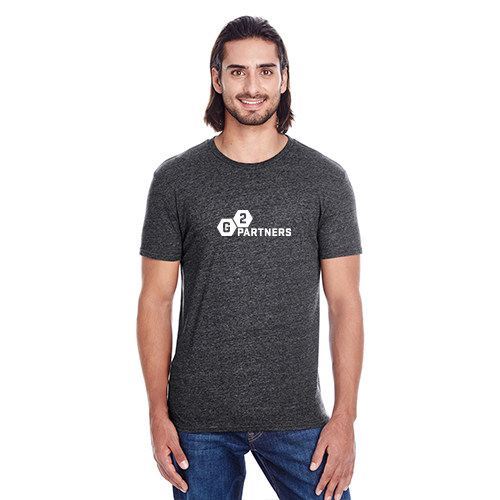 check it out at PinnaclePromotions.com >
Heathered, or what I like to call weathered, shirts are a trendy take on casual wear that I hope never goes out of style. The marbled appearance of the fabric provides a visual interest on an otherwise simple piece of apparel. The Threadfast Jersey Short Sleeve T-shirt is retail inspired and the smooth surface of the tee is ideal for screenprinting. I would suggest a simple one color imprint on this tee since there is already a natural marbled background. This tee consists of 95% polyester and 5% cotton so it can easily be considered a top pick for the sportswear industry as well. I like to wear my Threadfast tee when I take my dog out for walks or if I plan on spending a day outside at the park.
Colors available: Black Triblend, Cardinal Black Triblend, Cream Triblend, Green Triblend, Grey Triblend, Mint Triblend, Navy Triblend, Orange Triblend, Red Triblend, Royal Black Triblend, Royal Triblend
Sizes available: S-2XL, Unisex fit
5. District Made Scorecard Tee / Game Day Tee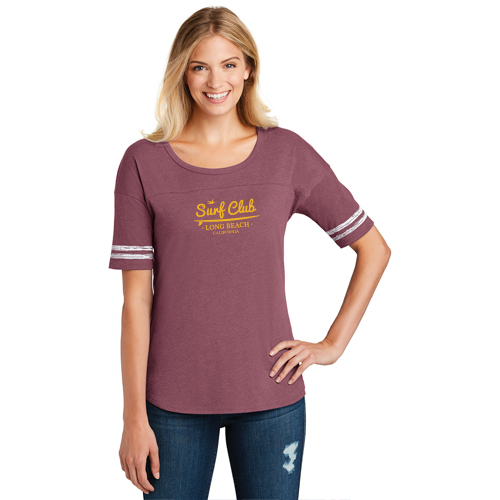 check it out at PinnaclePromotions.com >
The District Made Scorecard Tee (mens version is called the Gameday Tee) adds just the right flair to the basic tee. This tee screams retro game-day with the distressed printed stripes on the sleeves! It is one of my favorites because it brings me back to the University days where I loved sporting my school spirit! As a company, you can bring that spirit to life with your company logo printed on this tee, and the Game Tee gives you a chance to have fun with your logo and retro-fy it. Remember, what was old will become new again.
The 4.5 oz. weight of the shirt is right in the sweet spot: not too heavy and not too light which makes it the perfect tee to wear outside! The build up is another 60% cotton and 40% polyester blend and features a tear-away label. With the vintage look and great quality material, this tee will score year 'round.
Colors available: Heathered Charcoal and White, Heathered Nickel and White, Heathered True Navy and White, Heather True Royal and White
Sizes available: XS-4XL, also available in Men's style (Gameday Tee)
Conclusion
There are hundreds of different t-shirt styles to put your logo on, and although this post only highlighted my 5 top styles, it is a great starting point for your next project. At Pinnacle, we pride ourselves on being experts in the products we offer – you can trust that any one of these styles will be a great quality t-shirt to Make the Right Impression on your employees and customers.